Thor Is Without His Hammer in Funky 'Thor: Ragnarok' Trailer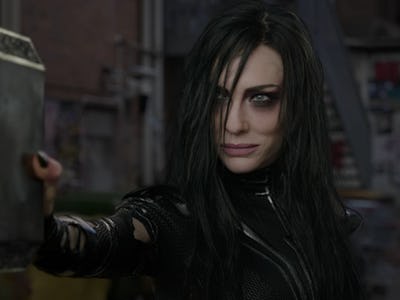 YouTube.com/Marvel Entertainment
What is Thor without his hammer, Mjolnir? Just a chump, apparently. In the first trailer for Marvel's Thor: Ragnarok, directed by Taika Waititi, the fearsome villain Hela (Cate Blanchett, rocking sick goth makeup) crushes Thor's magical hammer with one hand. It's a shocking first impression that leaves the Mighty Thor mighty powerless, leaving him to become enslaved as a gladiator for the Grandmaster (Jeff Goldblum).
As Thor himself puts it in the trailer, "Well, it's a long story."
Chiefly inspired by the real Norse legend but exaggerated by Marvel, Mjolnir is a powerful weapon bestowed upon those who are deemed worthy. Thor (Chris Hemsworth) was an arrogant prince who wielded Mjolnir and became unworthy in his first movie, 2011's Thor, where he had to earn it back. Now in Thor: Ragnarok, it's completely destroyed, leaving Thor helpless as he's tossed around the galaxy unable to fight like he could when he was with the Avengers. That's why he's so happy to see his old buddy Hulk in the arena, at least at first.
The third in the Thor movies but 17th in the entire MCU series, Thor: Ragnarok stars Hemsworth in his return as the epic superhero since his last appearance in 2015's Avengers: Age of Ultron (though he made an after-credits cameo in last year's Doctor Strange). Mark Ruffalo will also return as his Bruce Banner/Hulk, and their adventure together will likely lead them back to Earth just in time for next year's Avengers: Infinity War.
Check out Hela's hammer-crushing debut in the Thor: Ragnarok trailer below.