Cate Blanchett Will Play Villain Hela in Marvel's 'Thor: Ragnarok'
Also: Tessa Thompson, Jeff Goldblum, and 'Dredd' star Karl Urban join the Marvel Universe.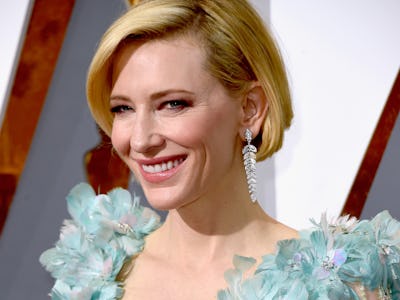 Frazer Harrison/Getty
It's now official: Oscar-winner Cate Blanchett will play Hela in Thor: Ragnarok, the third film in the Thor series, confirming a rumor that sprung up months ago.
Marvel made the announcement today, along with news that with Karl Urban, Tessa Thompson, and Jeff Goldblum will join the film alongside Chris Hemsworth's Thor and Mark Ruffalo's Bruce Banner/Hulk, in what Marvel Studios head Kevin Feige describes as Thor's "most dangerous and heroic adventure yet."
Goldblum will portray the "eccentric" Grandmaster, one of the oldest beings in the Marvel Universe who was born shortly after the Big Bang. Thompson will be the heroic Valkyrie while Urban will be Skurge, a super-villain who in the comics sacrificed himself as an act of redemption.
As a Marvel fan I'd be the first to tell you the Thor movies are the lesser-exciting installments in the franchise, but the casting for Ragnarok is immediately intriguing. It's one of the strongest casts assembled for a single Marvel movie thus far, aside from the recent Black Panther casting rumors.
Aside from the newcomers and of course Hemsworth and Ruffalo as their Avengers superheroes, Thor: Ragnarok will see Tom Hiddleston and Anthony Hopkins reprising their roles as Loki and Odin respectively.
Marvel also showed an early concept design from the movie, showing the Asgard army against Blanchett's villain Hela.
Thor: Ragnarok is directed by Taika Waititi (What We Do in the Shadows) and will open in theaters on July 28, 2017.