Mark Ruffalo Says Cate Blanchett May Be the Villain in 'Thor Ragnarok'
The actor spilled the beans about the third 'Thor' movie's villain at an awards season luncheon.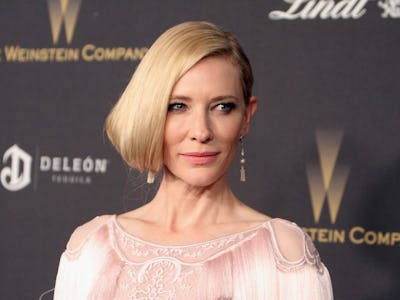 Getty Images
It looks like the awards season glitz and glamor have caused Mark Ruffalo to forget about what he can and can't say about upcoming Marvel projects.
At the BAFTA Awards Season Tea Party over the weekend Ruffalo, who will portray Bruce Banner/The Hulk again in Thor: Ragnarok, let slip to Entertainment Tonight that Oscar-winner Cate Blanchett may appear in the Marvel threequel as the movie's main villain.
"Your Thor 3 co-star, Cate Blanchett, is here tonight, are you happy about that?" an ET correspondent asked Ruffalo. "I'm so thrilled. I saw her at the Governor's banquet here and heard that maybe she was circling, they were talking to her about the part, so I ran up to her and I was like, 'Please, please, please make this work!'" he responded, and continued by saying, "She's just one of the best, and to have her play a baddie is going to be really exciting," Ruffalo added.
Despite rumors that actresses like Emily Blunt, Charlize Theron, and Jessica Chastain could appear in the third Thor movie, Blanchett was basically confirmed to be joining the cast last month in a "bad-ass female" role, and Ruffalo seemed to confirm that Blanchett's bad-ess female would also be a bad-ass villain. Though there's still no word at this point about exactly who she might be playing. The actress joked on Jimmy Kimmel's show last week that she'd be replacing lead actor Chris Hemsworth as the Norse god of thunder in the movie.
So now that Blanchett is basically in, who will she play? Marvel president Kevin Feige told Empire earlier this month, "[Thor: Ragnarok] takes place within the cosmos primarily which is to say, frankly, very little Earth." Based on that comment and the direction Marvel is going with Doctor Strange it's safe to say things are going to get fantastic and weird.
That leads us to believe Blanchett may be playing the Enchantress, a powerful sorceress and one of Thor's greatest enemies who in the comics attempted to seduce Thor away from Jane Foster (who will be played again by Natalie Portman in the movie). She could also plausibly play Karnilla, another sorceress who was the Enchantress' mentor and a sworn enemy of Thor's homeworld of Asgard. Another fanciful villain that we'd love to see her play would be Hela, the Norse goddess of death who in the comics was appointed by Thor's father Odin to rule over the realm of the dead. Either of those three would be sufficiently spooky for the Oscar winner.
Besides having the acting chops to make a great villain, Blanchett's potential casting basically ushers in the fact that the Marvel Cinematic Universe is now fair game for some of the best actors on the planet. Sure the MCU — and Thor in particular — has been filled with other Oscar winners like Portman, Anthony Hopkins, and more. But along with other actors like Chiwetel Ejiofor and Tilda Swinton in Doctor Strange, it'll be fascinating to see if Blanchett's level of acting prowess opens the MCU up to other prestige performers — that and the fat Marvel paychecks that these actors are eligible to get.
But first Blanchett needs to sign on the dotted line. Hopefully she does, in which case we'll see her battling all kinds of Norse gods when Thor: Ragnarok hits theaters on November 3, 2017.