We Only Have to Wait 575 More Days to See Thanos in a Marvel Movie. Maybe.
Marvel president Kevin Feige gave new information about the ultimate bad guy, and fans are going to have to wait some more.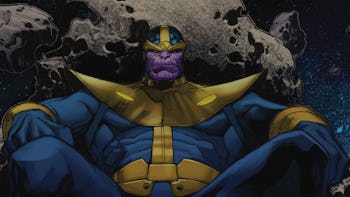 Marvel
Now that 2015 is coming to a close, the Marvel marketing machine needs to remind you that there are a whole lot more superhero adventures to come. Marvel Studios president Kevin Feige sat down for an interview with British film magazine Empire to dish, obliquely, about the movies that will come to define the Marvel Cinematic Universe's upcoming Phase Three slate.
We've heard plenty about Captain America: Civil War and Doctor Strange, but Feige also opened up about the untitled Spider-Man movies, Thor: Ragnarok, and Guardians of the Galaxy Vol. 2. He mentions that Spider-Man will be as "big and spectacular a Spider-Man film as has ever been made" and that it will "be focused on the story of a 15-year-old kid going to high school." But it's his comments about the Thor threequel and Guardians sequel that have fans in an uproar over something that's been teased in the MCU for three years: namely Marvel's big baddie, Thanos.
The purple-skinned alien Thanos made his first appearance in a credits sequence in 2012's The Avengers, and was revealed as the puppet master behind the climactic Chitauri invasion in director Joss Whedon's comic book behemoth. Thanos then popped up again in a slightly bigger part in Guardians of the Galaxy, again as the mastermind moving chess pieces around — think of him as Emperor Palpatine in The Empire Strikes Back.
His most recent cameo was in another credit sequence in this year's Avengers: Age of Ultron, where he was first rumored to be the main bad guy instead of James Spader's titular evil robot. Angry that the pawns he's moved against Avengers haven't worked, the quick clip saw Thanos vow to take things into his own hands. This brings us to Feige's comments.
It's been a whopping 1,336 days since we first caught a glimpse of the big bad purple dude in The Avengers, and it looks like we'll have to wait a bit longer. "I wouldn't look too hard in that movie for Thanos," Feige said of Guardians 2 before reassuring fans that we'll eventually see the supervillain do something other than sitting down and threatening other characters. "The next time we see Thanos he will not be messing around. It will be, 'Oh, that's why they've been teasing this villain for five years!'"
Five years may not be much to Thanos, but to the boys and girls who enjoy comic book movies, this is absurd. Fans notice.
It was assumed that Thanos would be the main villain for Avengers: Infinity War - Part 1, which comes out in 2018, six years to the day of the first Avengers movie. He might have misspoken, but Feige said five years, not six. Wait, what?
Feige went on to say that Thor: Ragnarok "takes place within the cosmos primarily which is to say, frankly, very little Earth." Where have we seen Thanos hanging out in the three years since we first saw him? Out in the cosmos. So fans might only have to wait 575 more days to see Thanos actually do something when the third Thor movie drops on July 28th, 2017. If the "five years" comment is a misdirect by Feige, then brace yourself for 855 more Thanos-less days before Infinity War - Part 1 opens on May 4, 2018.
It's been a long time coming, and this kind of tease represents the worst of the MCU's tendency to just leave breadcrumbs for an inordinate amount of time to get people excited about movies that are years away. Stlll, people doubted that a connected Cinematic Universe could even work in the first place, so if Marvel can manage to keep interest in this one god-like villain pulling the strings behind everything in the MCU this far then they must be doing something right.