Official 'Doctor Strange' Costume Revealed, Looks Like B+ Cosplay
'Entertainment Weekly' reveals Benedict Cumberbatch's costume as Marvel's new magical superhero.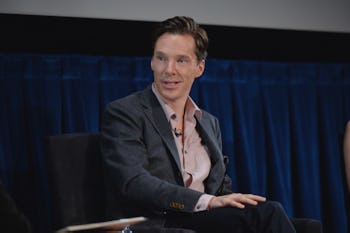 Getty Images
Oh, hey, look, it's Benedict Cumberbatch playing dress-up.
This week's issue of Entertainment Weekly offers a first look at Cumberbatch as Marvel's wizardly superhero, Doctor Strange. Principal photography on the movie began last month under Scott Derrickson's direction, and following a peek at some concept art of Strange earlier this month and some inconsequential set photos in Nepal, this is the real first time we've seen Cumberbatch in character — cape and all.
Admittedly, this official look seems like an early glimpse and, in fact, it's a really early glimpse. Per the post about the new image, "EW's First Look cover shoot with Cumberbatch was one of the very first times the British actor tried on the costume that his character, Doctor Stephen Strange, wears." Also, Cumberbatch "used the shoot as something of a research-and-development session."
There's obviously a lot still left to learn about the movie, which will be Marvel's first foray into straight-up magic instead of super soldiers or military tech billionaires with mechanized iron suits.
We know the movie will follow the comic book story of Benedict's neurosurgeon character discovering magical powers following a terrible car accident, but we still don't even know which characters principal actors Rachel McAdams and Mads Mikkelsen are playing. It seems there's a lot Cumberbatch needs to learn as well.
He told EW:
"I'm still in the infancy of learning all that. It was like, okay, I've got to keep throwing these poses, these spells, these rune-casting things, everything he does physically. I'm thinking, there's going to be a huge amount of speculation and intrigue over the positioning of that finger as opposed to it being there, or there. And I'm still working on that. We haven't played any of those scenes yet. I felt really self-conscious. But, then, by the end, it was great. It's like anything, you just have to experiment."
Find out where Cumberbatch's fingers are positioned when the movie drops on November 4, 2016.