'Doctor Strange' Movie Concept Art and Details Revealed
Dramatic concept art shows Doctor Strange in what's being called a "mind-trip action film."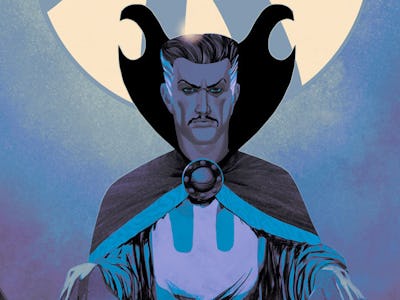 Marvel
We know a little more about director Scott Derrickson's Doctor Strange via a new video from Amazon that's teased the first details. There isn't a lot of solid details to chew on in the clip mostly because Marvel probably doesn't want to spill too many secrets on the movie, which just recently started shooting. It features a bunch of new concept art for the character of Stephen Strange, who will be played by Benedict Cumberbatch.
It's all part of a so-called "Phase Three" of the Marvel Cinematic Universe (MCU for short) that's been squarely set on the upcoming Captain America sequel and Avengers 2.5 movie Civil War, which comes out next summer.
The video also includes some new Doctor Strange plot details from Derrickson, Marvel Studios President of Production Kevin Feige, and producer Stephen Broussard.
"What you can expect from this Doctor Strange movie is a mind-trip action film," says Derrickson.
As for the weird magical aspects inherent to the character, executive producer Stephen Broussard says, "It's one of the things that's important to us in telling a magical story, is keeping it grounded but still leaving enough room to have really cool and unique visual ideas to explore."
Feige follows up by stating the obvious: "How do you put that on a screen within this cinematic universe? That is, you know, one of the primary goals of that movie."
It doesn't amount to much, but it seems like Doctor Strange will go for straightforward action like the Captain America movies — with a little bit of Guardians of the Galaxy weirdness thrown in for good measure.
It's a smart move, since Strange definitely isn't as well-known as Captain America, so the action will keep it grounded in the type of movie language general audiences would love. But they're keeping the story strange, just like they did with Guardians. That movie turned out to be a resounding success despite its unknown characters and seemingly bizarre premise.
Marvel has done a great job at balancing its heavy hitters and gradually introducing new heroes like Ant-Man to the masses, and it's something that will be even more difficult as they transition into Phase Three with even more unknown characters.
Marvel has guaranteed hits like Avengers: Infinity War, but movies like Strange or Black Panther or Captain Marvel could easily get awry if they don't treat them with the same tender love.
It doesn't hurt that Cumberbatch, whose casting Derrickson says was "huge for us," is joined by a fairly killer cast that includes Chiwetel Ejiofor, Tilda Swinton, Mads Mikkelsen, and Rachel McAdams. More details will inevitably get out, but for now we know Marvel is definitely keeping it perfectly strange.
Doctor Strange is slated to hit theaters on November 4, 2016.