Iron Man and Captain America May Show Up in Marvel's Standalone Spider-Man Movie 
Chris Evans and Robert Downey Jr. spilled the beans during a talk show interview.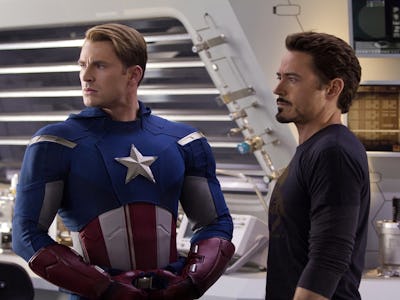 Marvel
As the old World War II saying goes, "Loose lips sink ships." Though there won't be any ships literally sinking because of something like Marvel movie news, loose lips among the actors in the Marvel Cinematic Universe may have dropped some information about one of the comic giant's biggest kept secrets.
The sleuths over at ComicBook.com seem to have pieced together some new information regarding Marvel's standalone Spider-Man movie. After the adventures of the webslinger were unsuccessfully rebooted by Sony despite two movies starring Andrew Garfield starring as Peter Parker, a deal was struck between Sony and Marvel to bring Spidey into the world of Iron Man and Captain America.
Not much is known about this new iteration besides the fact that the new movie will be released in 2017, he'll be played by relative newcomer Tom Holland, and that his spider sense will tingle in a cameo appearance in the upcoming Captain America movie, Civil War. That movie will pit two of the biggest heroes in the Marvel universe against each other as Cap and Iron Man disagree about government superhero regulation.
Both heroes themselves, Chris Evans and Robert Downey Jr., went on Jimmy Kimmel Live! to debut the trailer to the new movie, and they let slip some information about returning to Atlanta to film a new Marvel movie.
During the interview, Downey says to Evans, "By the way, we are going to shoot in Atlanta again, you and I," to which Evans responds, "I know, I'm ready, I'm ready."
The exchange is telling for a number of reasons. Doctor Strange and Guardians of the Galaxy Vol. 2 are the next MCU movies scheduled for release, and are being shot in places other than Atlanta. Doctor Strange is filming in London, New York, Hong Kong, and Nepal. While Guardians 2 does begin filming early next year in Atlanta, director James Gunn already shot down any rumors of an Iron Man cameo.
That brings us to the next movie on Marvel's schedule: the untitled Spider-Man movie, which is also slated to begin filming around the same time next year. And what version of New York will your friendly neighborhood Spider-Man make his home? Holland recently revealed that the movie would shoot in Atlanta due to tax breaks.
It makes sense for Marvel to bring the two heavyweights into the movie with the new kid on the block (though, to be fair, previous Spidey movies have already outgrossed both Iron Man and Captain America at the box office). Spider-Man played a big role in the comic book storyline for Civil War, and though he'll be downplayed in the movie version, the fallout over the spat between Cap and Tony Stark could spill over into Spider-Man's own movie.