Jeff Goldblum's 'Thor' Character Knows a Familiar Villain
Expect the Grandmaster to show off with his Power Primordial in Thor: Ragnarok.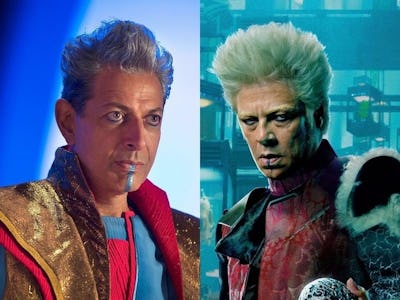 Entertainment Weekly, Marvel
Last week, the world caught a glimpse of the crazy, colorful world of Taika Waititi's Thor: Ragnarok. Among the images released by Entertainment Weekly is Jeff Goldblum looking — uhh — spectacular as the Grandmaster, a cosmic being obsessed with games, chance, and strategy. This being the Marvel Cinematic Universe, the Grandmaster is closely associated with Benicio del Toro's the Collector, who debuted in Guardians of the Galaxy, both members of the Elders of the Universe.
The Grandmaster was created by Roy Thomas and Sal Buscema and appeared in The Avengers #69 in October 1969. The Grandmaster, whose name is En Dwi Gast, is a longstanding member of the Elders of the Universe, the last survivors of extinct races characterized by vices and obsessions. The Collector, also created by Buscema and Thomas, was the first Elder to appear in Marvel before ushering in more dudes like the Trader, the Runner, the Caregiver, the Obliterator, and the Gardener. The Grandmaster appeared in comics three years after the Collector debuted. The Elders also once teamed up with Ego the Living Planet — played by Kurt Russell in Guardians of the Galaxy Vol. 2 in July — to fight Galactus.
The Grandmaster also created the Squadron Sinister, a rival supergroup to the Avengers who more than resembled the Justice League from DC Comics.
As members of the Elders, each wields a small bit of Power Primordial, which are leftover energies from the Big Bang. The Power Primordial can be used to do practically whatever the writer wants them to do: get stronger or faster, generate shields and force fields, or even teleport. Expect the Grandmaster to show off with his Power Primordial in Thor: Ragnarok.
Despite being Elders, neither the Collector nor the Grandmaster look like they'll be buds in Thor: Ragnarok. Aside from the fact that del Toro isn't reprising his role for the film, they're both dealing with their own problems at the moment. The Collector's entire museum is a mess since the destruction of the Guardians, so he can't be bothered to travel all the way to Asgard.
Thor: Ragnarok will hit theaters on November 3.