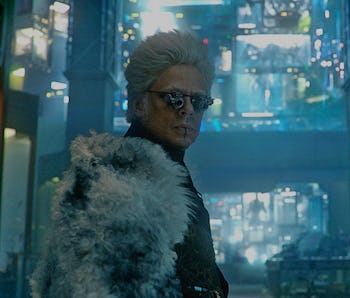 Entertainment
Benicio del Toro Might Be a Space Hustler in 'Episode VIII'
Entertainment Weekly
A mysterious man already drawing comparisons to the always dashing, sometimes dastardly Lando Calrissian could lead the young hero Rey to her demise. Or, he could turn out to be her new best friend. No one knows exactly who Benicio del Toro is playing in the upcoming Star Wars Episode VIII, but there are some hints.
Speculation began the moment del Toro was cast in Episode VIII. While the Puerto Rican actor is best known for playing characters on the wrong side of the law, it doesn't make sense for him to be an all-out baddie in the upcoming film. Recent rumors regarding his character fully support that.
If J.J. Abrams and the gang behind Episode VIII are sticking to the usual cast of "evil" characters we've grown to expect in Star Wars stories — the Dark side apprentice (Kylo Ren), the all-encompassing leader of the Dark siders (Supreme Leader Snoke), and the sociopath sans Midi-chlorians (Hux) — then the ballot is looking to be pretty full already. Captain Phasma is still a bit of a wild card as far as her story goes, but it's clear that she sits firmly in the "not to be redeemed" category.
Also a Star Wars staple: reluctant heroes and characters hanging in the gray area until poked or prodded sufficiently by one side or the other. Audiences will be seeing a young Lando (played by Donald Glover) in the 2018 as-yet-untitled Han Solo anthology film. But perhaps Abrams will transform del Toro into a Lando-like character for Episode VIII as a sort of homage. In Star Wars novels, Lando considers himself a "con-artiste" of sorts, a dashing criminal with his own set of ethics that often makes it seem like he's doing the right thing at the end of the day.
So where does that leave del Toro? Rumors have him pegged as a "man in black" who hangs around a casino, which sounds appropriately del Toro-esque. It also just so happens to sounds similar to something Lando would pull.
Despite Han Solo's tragic death in The Force Awakens, he undoubtedly has contacts all over the galaxy who'd be willing to help the young heroes of Episode VIII find their way. Benicio del Toro's "man in black" could easily be a contact and/or a man with a clue to help Rey, Finn, Luke, Leia, and Poe along their way.
Here's hoping del Toro doesn't resemble Lando too closely and pull a Cloud City on Leia and her friends all over again.
Star Wars: Episode VIII will be in theaters December 15, 2017.