I Took the Tube With a Stormtrooper and a Mandalorian
Here's what I learned about cosplay.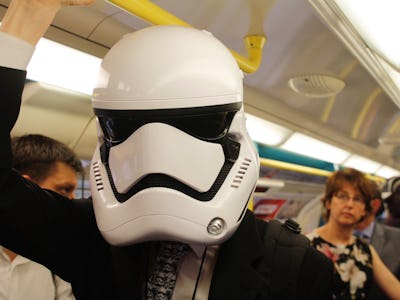 Mike Brown/Inverse
Adam Marouf was excited. He and a friend, Guy Meadows, had come to Star Wars Celebration Europe, held this past weekend in London, to cosplay for the first time. Adam came dressed as a Mandalorian, while Guy was a Stormtrooper … in a business suit.
It was barely noon, and Meadows had already noticed how cosplayers will bond with people dressed the same as them.
"There's mutual Mandalorian respect," Meadows said, raising his voice in the midst of shouting Star Wars fans, anxious to catch a glimpse of the merchandise in the adjacent halls. Excitement is in the air. This is only the third Star Wars Celebration Europe, but the Lucasfilm-endorsed event attracts fans from far and wide: the last European event, which took place in Essen in 2013, attracted 20,000 fans from over 40 countries. Guests to this year's event include Carrie Fisher, Mark Hamill, and Warwick Davis.
Meadows, 21, and Marouf, 20, are the newest recruits to the dizzying community of cosplay. Ticket-selling vendor Eventbrite estimates that North American fan conventions grossed over $600 million in 2013 alone. A later survey showed that 22 percent of men name cosplay as their primary motivator for attending conventions; for women, that figure rises to 49 percent.
"The guys that have got really good ones, and you're sort of sitting there like, how did they get that good?!," said Marouf. "I was talking to this guy with a really good Boba Fett one, and he just said like 'oh yeah, mine basically started like that!', and it's really good now."
The overall cosplay at Star War Celebration Europe isn't quite San Diego Comic-Con — famous for its elaborate cosplay outfits. The pair doesn't exactly look like they've walked off a film set, but then nor do a lot of people attending the event. Here, the main draw is … well, celebrating Star Wars. Costumes that cost a few dollars are just as welcome in the community as elaborate bank-busting affairs.
Unfortunately, it's not a community that everyone respects. SWCE's organizers had placed signs around the venue, telling attendees that just because someone is dressed in cosplay, does not give any right to touch them. The website and event app both offer forms for attendees to report harassment.
Meadows and Marouf said that the community appears to have become more aware of the issue recently. "I didn't see them [the signs] when I went to Comic-Con a couple of years ago," he said. New York Comic-Con was one of the first to put out such signs, back in 2014.
As the day came to an end, Meadows and Marouf met up with Jamie Freeman, 22, to take the Docklands Light Rail back to their hotel. The group all attend the University of East Anglia: Freeman studies politics, Meadows film, and Marouf medicine. It's been a long day, but their first experience has been exhilarating.
"It makes me really wanna get into it now," Meadows said. "People wanna take pictures with you, ask you about it."
"Yeah! I really wanna…[growling]…spend more!" Marouf laughed.
Classic British reservedness is on full display as the trio make their back. Beyond a few cursory glances, their costumes fail to cause a stir on the train carriages.
"It's public transport," said Marouf. "Everyone loses all sense of humanity on public transport."
"You get on the tube, and you're not allowed to look up, or talk, or breathe in someone else's ear," Freeman says.
In ways, it's almost like the magic of cosplay exists only in fan spaces like SWCE. Outside the venue, they're ordinary people in interesting costumes. Inside, they become a part of something, something bigger than the costumes they inhabit.
"I love the little respect things you get if you're part of groups. Adam got loads of Mandalorians, and I got anyone who was in a stormtrooper suit," Meadows said. "Maybe like a little nod or acknowledgement, it's great!"