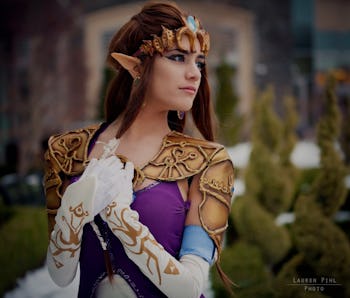 Entertainment
A Comic-Con Cosplayer's Guide to Halloween Costumes
ShazuHime, a veteran of the geek scene, offers insight on how to maximize your Halloween threads.
Lauren Pihl Photo
The New York Comic-Con is over but the season of dressing up is just getting started. Halloween is days away and, if you're like most people, it's snuck up on you on padded tiger feet. If you're panicking over what to be on October 31st, let a cosplayer help manage your dress stress.
A portmanteau of "costume" and "role-play," cosplay is a hobby taken up by those dedicated geeks who sew, stitch, glue, and cry their best outfits together to hang out at Comic-Con. They know a thing or two about dazzling with spandex and papier-mâché armor, and they damn sure know about making it at the last minute.
Fresh from the New York Comic-Con, cosplayer and geek convention vet ShazuHime gave Inverse some sage advice on how real nerds blow away the Halloween "nerds." This is her rocking a Final Fantasy look:
1.) Pick a costume whose look you can actually obtain and that people recognize.
"For example, the Big Daddy in BioShock is an absolute no," she tells me by phone. "It requires way too many crafting techniques."
ShazuHime, or Shauna to her friends, advises picking a character whose outfit is easy to piece together and is instantly familiar.
Whether it's Comic-Con or Halloween, recognizability is key. "It helps with your confidence level because a lot of people will be impressed by that. Especially at a Halloween party where people are kind of not stepping up their game. If they see something done really well, they will acknowledge that."
2.) Love thy thrift stores and Goodwill.
Always avoid spending $50 on throwaway costumes that fall apart after one night. Instead, hit up Goodwill. "A surprising amount of my costumes have actually been items I've altered from thrift stores," she says.
3.) Don't buy wigs from Halloween stores.
Hurry and you can still get a proper wig shipped, ShazuHime says. "You should not overpay for those stupid wigs that look too good in the picture and are garbage when you pull them out," she says. "So if you want a wig, you can spend $30 which is about the same price as an Arda wig and it will last you at least one more use. Or, if you order earlier in October, you can order a wig in China. They're like 10 bucks and look good in pictures."
4.) Start with a base costume and build up from there.
Why spend so much money by getting everything off the rack? Identify the "base layer" and start from there.
"If you really want to step up your game, look at a picture of the actual character and see what may be missing from the base costume," ShazuHime says. "Items like craft foam and acrylic paint which you can get for like, $5 all together can really do a whole lot."
5.) To hell with skin/hair/height/body size.
"I don't think you should limit the costumes you choose to do because you don't physically look like a character," ShazuHime advises. "If it's a character you love, I think you should do it. My boyfriend recently cosplayed as Robin from Teen Titans, and he's really tall! So we just worked on every aspect of the costume. When we did it, people weren't looking at his height, they were looking at everything else."
Of course, ShazuHime and the vast majority of the cosplay community kindly caution you not to practice any old-timey racism. That should be obvious. But people continue to screw it up.
6.) What's your dream costume? Do it now.
If cosplay is love and commitment, Halloween is a dirty one-night stand. Even cosplayers don't take it seriously; ShazuHime tells me that she and her cosplay friends treat Halloween like their "vacation."
"I could have been part of this community four years ago. I could have completed so many projects and be at such a higher level [of skill] than I am now. I could have made all these friends through the hobby that I've made only now. That's the best advice I could give, to not wait."
But regardless of where on the "Pro-grade Darth Vader" to wearing your day-old clothes and going as "laundry" spectrum you fall, there's at least one costume you've always wanted to go all out with. Wonder Woman? Rosie the Riveter? A screen accurate Ghostbuster? Whatever it is, you should do it and do it now. Not only are you not young forever, but your costume making skills will be way better next year.
7.) Going in a group? Communicate, communicate, communicate.
Do you and the #squad want to be Ninja Turtles? Great. Keep in touch to avoid embarrassing scenarios like you're all dressed as Mikey. "The invention of group messages on Facebook can really avoid things like that," she says.
8) Have fun.
In the history of humanity, there has never been a Halloween contest prize worthy of the stress and debt you could find yourself in. Bogging down in the minutiae can blind you from the real purpose of Comic-Con, let alone just Halloween: to have fun.
"You have to go in and expect not one person to stop you," she says. "You have to feel like, 'I'm doing this for me and I'm enjoying every minute of it. And it's not about what other people think of me, it's about what I think of me.' That kind of self-confidence, and fun, are the most important. That's what it should be about."
9.) And, seriously, don't buy Halloween store wigs.
ShazuHime was really adamant about this last point.
"They're. Not. Good."