Star Wars Celebration: 3 Reasons to Wake up Early on Saturday
These can't-miss panels will be streamed live -- and early.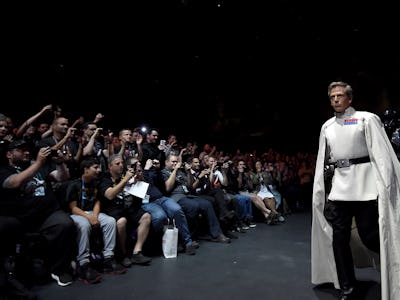 Getty Images / Ben A. Pruchnie
Today's Star Wars Celebration festivities may have focused on Rogue One, but if you were tuned into the magic on the Star Wars Show livestream, you may have caught some other gems. Dave Filoni and Ashley Eckstein sat down to talk about the legacy and untold stories of Anakin Skywalker's padawan, Ahsoka Tano. Mark Hamill charmed audiences both at the convention and here at home with his ever-present wit — and a tinge of his love for trolling the fans.
For those of us viewing stateside, Celebration in Europe means getting up early. Sure, you can watch the panels later on YouTube, but half of the fun of fandom is being able to livetweet it all with your peers online while huddling in front of a bright computer screen, clad in a Chewbacca robe at two in the morning. Right?
For those of us unable to have chance encounters with Star Wars legends (this year, at least), there are tons of things worth waking up early for - and Saturday's lineup is about to deliver.
Keeping Up With The Fetts
8:00 a.m. EDT / 5:00 a.m. PDT
For decades, Boba Fett has held a special place in the hearts of fans everywhere for various reasons. Going from a soulless husk to a character defined by a million backstories can be tough, so what's better than hearing about it from the guys who brought he character to life? Jeremy Bulloch (who played Fett in the original trilogy) and Daniel Logan (who has played the character in both the prequels and The Clone Wars animated series) join host David W. Collins for a discussion about the phenomenon behind the character, and where he goes from here.
Star Wars Rebels Season 3
11:00 a.m. EDT / 8:00 a.m. PDT
While fans at home will have to wait for the premiere of Season 3 (which will debut at Celebration after the panel), last year's Star Wars Rebels presentation was an insightful hour on the lore behind the films. Find out what's happened in the time we've been apart from the crew of the Ghost, where Ezra's training is leading him, and — hopefully — more clues about how the show is going to tie into Rogue One. Dave Filoni, Tiya Sircar, and Ashley Eckstein lead the panel.
Marvel's Star Wars Comic Books
5:00 p.m. BST / 12:00 a.m. EDT / 9:00 a.m. PDT
The development of the new canon has been tense in the face of folks who prefer the Star Wars Legends books and comics, but Marvel has opened up new doors for Star Wars storytelling over the past year, introducing heroes like Shara Bey (Poe Dameron's A-Wing Pilot Mom) and telling us unknown stories, including how Lando's assistant Lobot came to be so quiet. Needless to say, it's worth keeping up with the announcements out of this panel.
If you've got more free time, the Star Wars Celebration live stream runs from opening to close each day, and quite a few interesting characters have been known stop by the cantina in the past.