Star Wars Celebration: 5 Must-Watch Streaming Events
Sure, some of us have to watch at 2 a.m., but that's how the Force works, right?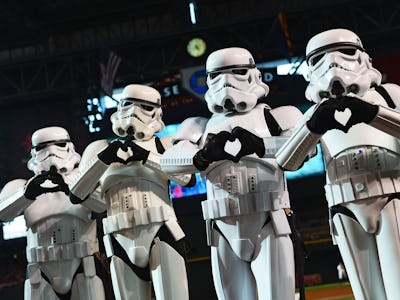 Getty Images / Jennifer Stewart
The time is upon us once more. Star Wars Celebration, the now-annual convention for fans of that galaxy far, far away begins in London just hours from now. The halls of the convention are covered in set replicas, droids, and cosplayers, but — like any traveling convention — there's a bulk of the fandom missing this weekend (yours truly included).
Fear not, non-attendees (and especially those who cannot sleep): The Star Wars Show, Lucasfilm's weekly in-house websseries, is going live on the convention floor with exclusive interviews and features throughout the weekend. Along with bringing the show floor to your living room, the live stream is set to be the one-stop place to watch all of the major panels. Some stand above others (from a certain point of view) but there are at least five panels that can't be missed this weekend. To help you "stay on target", here's a quick list of the biggest events that you don't want to miss.
Show Opening/An Hour with Mark Hamill
Friday, 11:30 a.m. BST / 6 a.m. EDT / 3 a.m. PDT
It's a wonder why Mark Hamill is not yet a national treasure. Between the man's never-ending positive attitude and his keen ability to cheekily troll fans, it's easy to see why his personality warrants an hour-long panel. Outside of his legendary role, Hamill has conquered the world of voice and stage acting, has years of overseas education under his belt, and shares even the most interesting of fan memories with a sense of love that's hard to find in actors of his caliber. Brace yourself for the dad jokes.
Rogue One Panel
Friday, 4 p.m. BST / 11 a.m. EDT / 8 a.m. PDT
Kathleen Kennedy and Gareth Edwards take the main stage for a panel dedicated to this December's upcoming release, Rogue One. The first anthology film of the saga will explore the stories of a new team of heroes, and while this panel is expected to deliver the film's official new trailer, it's worth tuning in for the surprises that fans have come to expect during major Celebration panels.
Anthony Daniels, Without Protocol
Saturday, 2 p.m. BST / 9 a.m. EDT / 6 a.m. PDT
The sassiest protocol droid this side of the Outer Rim is ready to take the stage for another Celebration panel about his life in that iconic golden metal suit. Daniels has been in every Star Wars movie as C-3PO, a droid built by the Skywalker patriarch, Anakin (aka Darth Vader) who has been unknowingly passed down throughout the family by chance. While there's no promise of Daniels revealing anything about the droid's role in Episode VIII during his panel, his sheer charisma is enough reason to tune in.
Star Wars Rebels Season 3
Saturday, 4 p.m. BST / 11 a.m. EDT / 8 a.m. PDT
What happened to Ahsoka Tano? Where do the Rebels go now with Vader hot on their tail? What's up with Ezra's new haircut? All of this and more can be asked — but, knowing Star Wars' Dave Filoni, not answered — during the Season 3 panel for Star Wars Rebels, Disney XD's how show that follows a mismatched band of Rebels during the years leading up to Rogue One. Pay attention to this one carefully — after Season 2 wrapped, Filoni hinted that Season 3 had some strong ties to Rogue One, so expect a few hints this coming season.
Carrie Fisher: The Princess Diaries
Sunday - 11:00 a.m. BST / 6:00 a.m. EDT / 3:00 a.m. PDT
Round out the weekend with the galaxy's hero Princess-Senator-Commander-General — and likely, her faithful companion, Gary. Carrie Fisher's panels are an unapologetic look into her experiences, brought to life through the complex mind of an actress who has seen it all. Come for Fisher's quick and wacky wit; stay for her honest, wise, and open opinions on life.
This year's lineup hints ever-so-lightly at Episode VIII teasers, but with the weekend just on the horizon, loads of surprises are still just outside of fan reach. Check here for the full schedule of live streaming events at the show. Catch the livestream starting at 6:00 a.m. EDT / 3:00 a.m. PDT on the official Star Wars site.