4 Things Mark Hamill Revealed at 'Star Wars' Celebration
The big 'Star Wars' convention kicked off with Luke Skywalker himself dropping some Jedi knowledge on fans.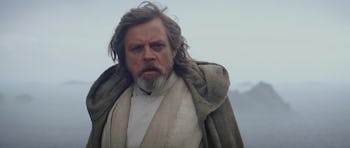 StarWars.com
If you didn't have enough money to make it to London for the big Star Wars Celebration, you don't have to worry. All of the juiciest panels are being livestreamed so you can enjoy the best of the galaxy far, far away right from the comfort of your own Yoda hovel.
Mark Hamill — Luke Skywalker himself — opened the European Celebration convention with an hour-long one-man Q&A where lucky fans had the chance to ask the last Jedi Master questions about everything … except Rian Johnson's Episode VIII, which he joked he was contractually obligated to keep his trap shut about.
The whole panel was a fan's dream, and it definitely seemed like Hamill enjoyed himself right from the start, too. "This is my favorite thing to do — to come and talk," he told the fans as he came out onstage. "I think of it as a conversation with 4,000 of my closest friends."
Here's the great Star Wars details he told to his friends.
1. He doesn't like egregious Star Wars secrecy.
Someone admitted the veil of secrecy surrounding such a venerated series like Star Wars was frustrating from a fan's perspective, but asked Hamill what it was like for him. "It can be really annoying and intrusive," he answered. "You get the call sheets and there's no names — everybody's got a number! You're number 11, you're 33. You look at the call sheet and wonder who's working, and go 'I really loved number 22's work. She's twice as good as 11.'"
But he reassured the fan that it's all for a reason: "They're not doing it to annoy you. They just want the surprise to be in the movie theater, not the internet," he explained. "You don't want to know what you're getting for your birthday! I had two sisters who used to go up to my parent's closet and tell me, 'You're getting a Beany and Cecil board game for your birthday.' I was like, 'Why did you tell me?!'"
2. He was surprised Rey had Force power without any training in The Force Awakens.
When The Force Awakens was released, people seemed surprised that Daisy Ridley's character could suddenly wield a lightsaber and harness the Force without any training, including Hamill.
"Rey caught it!?" Hamill joked about his first impressions reading about the final Starkiller Base lightsaber battle in the script. "She hasn't even been to Dagobah for training!"
The critique, however, was all in good fun. He did admit that Luke also didn't finish his training. "I was a Jedi school dropout also, I just wanted to be with my friends," he said. But Hamill reassured fans he knows his place as the Obi-Wan-type character in the new trilogy. "It's really not a story about me anymore," he said. "It's the story of Rey, Finn, Poe, and everyone."
3. He confirmed the rumored opening with Luke's lost lightsaber floating through space, which was eventually cut.
A fan asked about screenwriter Michael Arndt's scrapped script for Episode VII, and the rumored opening that focused on Luke's lightsaber and how it found its way to Maz Kanata. Hamill said he didn't get to read Arndt's script, but did see concept art from the script showing Luke.
Later, Hamill mentioned that the updated script, written by J.J. Abrams and Lawrence Kasdan, technically had Luke in the movie from the get-go. "I would have been in the first scene and the last scene," he said.
4. There are iconic lines in Rian Johnson's Episode VIII script better than "May the Force be with you."
As far as Episode VII goes, Hamill said fans should trust in the screenwriting prowess of writer/director Rian Johnson.
"I was looping Episode VIII yesterday," he said, "and there's dialogue in there that I could already see on a T-shirt. Seriously, Rian Johnson is amazing."
He went beyond simple pleasantries and admitted, "He'll make you forget all about 'May the Force be with you.' He's come up with so many new catchphrases."