Inside the Star Wars Lightsaber VR Game, 'Trials on Tatooine'
Trials on Tatooine launches on Steam next week.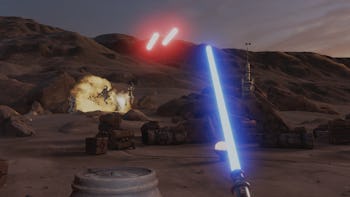 ILMxLAB
Trials on Tatooine is coming, and it's gonna be awesome. Developer ILMxLAB announced on Saturday that the lightsaber simulation experience is coming to Steam VR for the HTC Vive on Monday, and will be completely free for gamers to download and play.
Inverse tried the game out at this weekend's Star Wars Celebration Europe, and was very impressed with the experience. Set after Return of the Jedi, Trials on Tatooine puts you in the shoes of a young Padawan, awaiting a delivery from Han Solo. It's an exciting time: the Rebel Alliance has just defeated the Galactic Empire, and Luke Skywalker is preparing to build a new Jedi order.
After a classic scrolling intro to get us up to speed with the story, an assistant showed me to a HTC Vive virtual reality kit, a controller, and a set of headphones. I put on the headset and pressed start. Instantly, I was transported to the dusty surface of Tatooine. Han Solo's ship flew overhead, and R2-D2 touched down on the planet.
After making some brief repairs to the ship, trouble came calling: Stormtroopers, nestled in the hillsides!
The Vive's controller transforms into the coolest lightsaber imaginable. Use it to deflect enemy fire back in their direction, holding it at whichever angle makes you feel most like a Jedi master. The big button on the controller switches the lightsaber on and off. It's a small touch, but it's oddly satisfying.
Trials on Tatooine was a short experience, lasting around five minutes. Nonetheless, it's a tantalizing glimpse at the potential of Star Wars VR. It does nothing to calm expectations about what a full lightsaber-wielding game would be like. If anything, you're gonna come away from it wanting a whole lot more.
And the good news is that ILMxLAB is working on other projects and games for Star Wars fans. That includes a collaboration with Magic Leap, a room-sized augmented reality experience called the Holo-Cinema (which got demoed this winter at Sundance), and a new story-based project focused on Darth Vader, which will be made in collaboration with Batman Begins and Man of Steel screenwriter David S. Goyer.