Apple to Better Integrate iTunes Into New Version of Apple Music, Coming This Summer
Can Apple react to its Apple Music flop?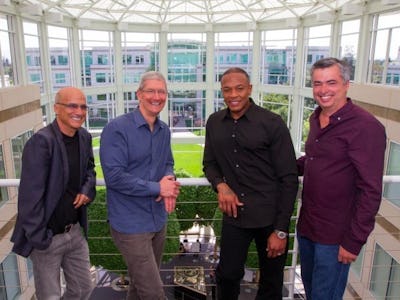 Apple
Steve Jobs reinvented Apple on the strength of iTunes and the iPod. The company was synonymous with digital music, but today, its reactive shift into the world of streaming with Apple Music has proven underwhelming to say the least. Apple is preparing a major revamp in a final attempt to save its life, but the Cupertino giant will face one major obstacle in its efforts: itself.
The original rollout of Apple Music left many users and reviewers unsatisfied with the user interface. It was too confusing, presenting an overwhelming amount of information. Apple streaming may have originated with the purchase of Dr. Dre's Beats Music, but the company turned it into a frankenstein of ideas without any real identity. Partially as a result, subscriber numbers never mounted to the levels hoped for by company leaders, only recently broaching 11 million, while Spotify is up past 30 million.
"When it comes to software, Apple performs with less elegance than it does when it comes to hardware," Colin Gillis, a New York-based BGC Partners analyst told Bloomberg Business. "Apple Music is underwhelming. They have subscribers because of their platform."
The good news for Apple is that its vaunted iTunes music store has remained steady in the wake of the advent of streaming. Download revenue provides a consistent stream of $3 billion into Apple's coffers, but the company faces major indecision over whether to try to bring its customers who pay for music downloads into its streaming service. Apple has been forced to add about 1,000 employees to its staff to build the streaming service, a heavy expense for a product that may require eating away at a more profitable sector of its tech empire.
Nonetheless, streaming appears to be the way of the future for music in general, so Apple is not giving up. The company, after all, brought in none other than Jimmy Iovine, the legendary music producer, to run Apple Music. Iovine's industry connections have helped leverage the rights to the kinds of exclusive deals that have, at times, distinguished Apple in a crowded field. Iovine's major accomplishments include nabbing Drake's "Views" exclusively for Apple as well as saving Taylor Swift's "1989" after the singer penned an essay criticizing the site's fee structure.
Iovine may be able to point to some trophies, but on the whole, Apple leadership and the staff of Apple Music appear conflicted about the producer's premiere in a major corporate role. The producer's expertise within the music industry itself meant that Apple had to bring in corporate-type Robert Kondrk to run day-to-day operations and oversee design at Apple Music headquarters in Los Angeles. The confusing company structure may not be going anywhere, suggesting major institutional barriers to any kind of renaissance.
Apple is not known for its success reacting to market trends. iTunes, the iPod, and the iPhone all worked, because they appeared to be visionary. They had their quirks and problems, but people were willing to put up with those on the grounds that the technology was one-of-a-kind. When hardware competitors edged in (Samsung's huge Galaxy Note phone), Apple was measured and successful in its response (Apple's huge iPhone 6 Plus). With its Apple Music streaming service, Apple has yet to react well enough to competition to make significant ground. The updated version of Apple Music will premiere at the Apple developer's conference in June, Bloomberg reports.
The streaming service looks more and more like its commercials every day, and that's not exactly a good thing.