Apple Music Is the Future, That's a Wrap
Early impressions on Apple's latest venture into controlling all of music.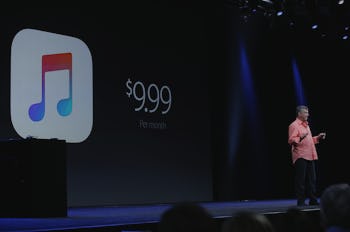 Getty Images
Goodbye Spotify. I am typing this listening to Spotify, but once my iTunes updates to the new Apple Music program, I'll never be using Spotify again. Not that I was ready to leave behind my constantly updating, but never properly functioning streaming service behind at the drop of a dime. No, I just needed to update my iPhone and see Apple Music neatly integrated into my phone experience to know this is my future.
Today was the official launch of Apple Music and its Beats 1 radio programming. The Apple Music service is Apple's long rumored streaming platform, which drew the ire of Taylor Swift for the lack of compensation that was going to be given to artists during its first three free months. Then there is the Beats 1 radio programming that was launched by Zane Lowe with the first song being Spring King's "City" and promises radio shows from Disclosure, Dr. Dre, Pharrell, St. Vincent and, well, at this point, nearly any person important in the music industry. One can make fancy playlists and even follow curators with their own special playlists. Shout to Vogue's "Kendall Jenner's Short and Sweaty Workout" playlist, which is full of Big Sean, Drake and Kanye West, because of course.
I'll admit to being a bit excited by this new service.
But a lot of what works for Apple Music, particularly on mobile, is the seamless integration into the Apple experience. "Music" on the iPhone is now Apple Music and Apple Music is now music. A pretty simple connection to make, but one that feeds into my inevitable collapse into the iTunes streaming economy. There are still questions about how many people will be able to stick with the service once it goes for pay? What the radio service will look like after the initial wave of celebrity cameos? Why does it play radio edits of tracks? And also the question of how many fractions of pennies will artists make for each stream?
But on day one:
Also for the radio component if the name Beats 1 — BBC One, anyone? — and the inclusion of former BBC radio host Zane Lowe didn't announce this, Apple wasn't taking this radio game lightly. And in the first couple hours of the station with Lowe pulling tracks from Dr. Dre's "Let's Ride" to Bully's "Trying" to WORLD PREMIERE of Pharrell's "Freedom", it's obvious that the station isn't afraid to grab the biggest names nor small up-and-comers. Only a few hours into it and it's hard to imagine why it took so long for all of this to come together, but I'm happy it's finally here.