Apple Music Doesn't Care About the Little Guy 
Tensions already flare between Apple and smaller music acts and labels.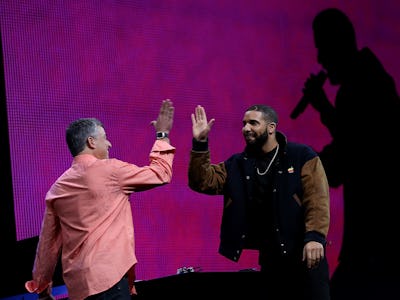 Only a week since Apple announced their Apple Music service and it's already seeing blowback from acts who'll be appearing on it. The Beggers Groups—that includes record labels: 4AD, Madator, XL, Rough Trade and Young Turks—came out with a public letter expressing concern with the way Apple is going to be debuting its service, which they've yet to officially partner with. Apple's own streaming service launches June 30th and will cost $9.99 a month and for those first three months it will be free for users.
The concern from Beggers Group came to the issue of new releases, because during this free window newly released albums will be free, which for them could potentially undercut album sales. Those few months of discounted service to entice new users also caused an issue for Anton Newcombe, the lead singer of Brian Jonestown Massacre, who said Apple would remove his music off iTunes if he did not agree to be a part of their service. An Apple representative when speaking with Rolling Stone curtly said "It will not be taken off" in response to the accusation from Newcombe. But even having to issue a statement appeared to be a bad look on their part and the perception of how they're working with artists. 
Apple Music will be released in less than two weeks with a reasonable amount of skepticism. Not only does the competition it will face from Spotify continue to grow stronger, but poor treatment of the artists and labels from streaming services is already well documented. And that Apple appears to be continuing this trend doesn't hold well as it begins to enter this new space.