Taylor Swift Saves Apple Music From Itself
Apple Music is back from the dead.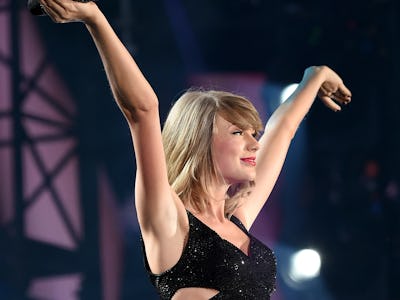 Dimitrios Kambouris via Getty Images
When Taylor speaks, the world listens. Yesterday, Swift posted an open letter to Apple on her Tumblr. In the letter, Swift explains why her 1989 will not be on Apple Music, the tech giant's new streaming service. Her biggest sticking point is that Apple was not planning to pay artists for the three months of free streaming available to subscribers. Swift's post is quite empathetic. "This is not about me," she writes. "Thankfully I am on my fifth album and can support myself, my band, crew, and entire management team by playing live shows." Swift's abstention is for the smaller artists who actually do need streaming payments.
Late last night, Eddy Cue, Apple's senior vice president of Internet Software and Services, reacted to Swift's letter on Twitter.
And just like that, Swift won. Swift's letter proved so effective for two major reasons: her importance as a musician, role model, and public figure; and her letter hit on the most glaring — and now acknowledged – flaws of Apple Music. As far as we know, Apple Music will not be any different from Spotify, in terms of artist compensation. Apple has not innovated – contrary to its typical visionary outlook – but rather copied a successful model.
It's quite likely that had Swift not spoken out, choosing instead to abstain quietly, that Apple Music would not have survived. Apple would not have had reason to reform its policies, remaining unconcerned with artists' compensation. Because there is no considerable draw for the service outside of the, admittedly powerful, Apple name. Apple may find success as a streaming platform by poaching Spotify's catalog by offering better compensation to the artists. Swift pushed Apple Music to the brink, and Apple buckled.