Here's What Spotify, TIDAL and Apple Music Want to Do In 2016
The future is not now. The streaming crusades are moving into a new phase, but they are far from over.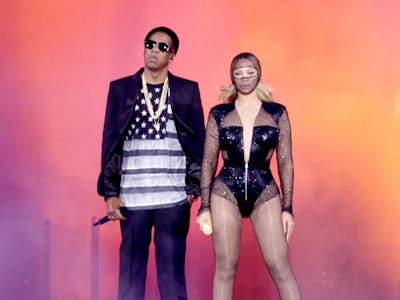 Another year, another big step for streaming services taking over the world, or perhaps in the macro, for at-a-click, on-demand everything. But more than a lot of significant expansion in what our favorite streaming services were able to do or offer — either for users or for artists — we just saw more streaming services creeping in, most notably Apple Music, which seemed like it might be capable of displacing Spotify's reign of power.
There was also the formidable promise of expansion of the definition of a streaming site: lots of original, Beats 1 Radio content. Around launch time, Dr. Dre exclusively previewed his album there, and then launched it exclusively on Apple Music. There was OVO Radio, and Drake song premieres. Also, there was the promise of being able to seamlessly integrate your own iTunes library, and upload music easily to the database.
But there proved to be lots of problems involved with the former merger, in particular. Even if it had gone off perfectly — and despite the desirable Beats 1 programming — it takes quite a while to sell people on a new subscription service. To date, these extra perks have only managed to get user ranks up to a fourth of Spotify's user count — $15 million to Spotify's $75 million.
The perks of TIDAL — the Swedish streaming service Jay-Z bought and remade in March — were practically non-existent to someone who doesn't care about compensation for artists or higher audio quality. It was unveiled with a higher subscription cost than Spotify ($19.99 for lossless audio and more special content and features, $9.99 for a more basic subscription). The amount of exclusive content loosed on TIDAL has been relatively scant — notable examples include Beyonce and Nicki Minaj's "Feeling Myself" video, Prince's most recent album, and various Lil Wayne ephemera. There has been a collection of exclusive TIDAL events — including a massive blowout at New York's once-Jay-Z-helmed Barclays Center — in October. In September, TIDAL celebrated reaching their first million in subscribers. The gaudy, melodramatic press conference, it turns out, did not make anyone want to whip out their credit cards.
The TIDAL team is boldly chasing — in their own self-important way — the idea that streaming services could potentially replace labels, and artists could take control of their own destiny. So while Spotify and Pandora have mostly just been vying for the most subscribers — to maintain commercial dominance — Apple Music and especially the periodically floundering TIDAL are thinking longer term: quite literally investing in their future.
It doesn't seem like we can expect streaming service competition to die off soon. This week Spotify was revealed to be in talks with labels about artists making their music exclusively available to paying subscribers. This year was the first in which major labels such as Warner Brothers saw streaming revenue trump digital album sales, and so there is a benefit to them for partnering with service providers. It seems like this is a more likely model than the utopia in which artists hold the reins and Bandcamp bands sign straight to TIDAL — in 2016, expect deals like the ones Spotify is looking toward to become a reality. Sure, other artists will go the Taylor Swift and Adele route and pull their music from both paid and free streaming to bolster iTunes sales, but this seems the least sustainable option, and very few artists are of a stature to take the risk.
Instead, streaming services big and smaller — like video streaming platforms — will be competing with unique original, paid content, and will continue to coexist, at least for a while. 2016 will be a year with too many cooks fighting for the kitchen, and labels attempting to find other ways of staying on top of the game and getting better streaming payouts. How much artists will benefit from these experiments remains to be seen. Streaming may be running the industry, but record labels aren't going to be obsolete anytime soon. They'll form new alliances. And like so many have Hulu and Netflix, more and more people will start paying for both Apple Music, Spotify, and — for the die-hards — TIDAL.