Everything We Know About Prince's Upcoming Tidal-Released Album 'HitNRun'
The singles are promising, but you may have to get TIDAL to hear the rest.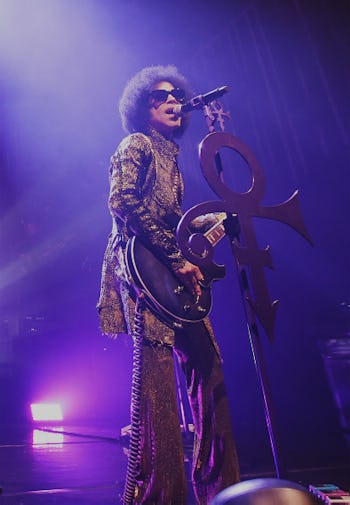 If there was any artist to which one could have predicted that Tidal — Jay-Z's hi-fi, exclusive-content-bolstered streaming platform — would appeal, it would be Prince. After all, the Minnesota eccentric is notoriously protective of his music when it comes to internet dissemination — his catalogue has long been inaccessible through iTunes, YouTube, or any social media platforms. Therefore, it seemed wholly on-brand when the Purple One announced earlier this month that his new album, HitNRun (sometimes called The Hit and Run Album) would be released in exclusive partnership with the artist-run Tidal, which is designed to guarantee fair royalties.
Yet recently a new single from the record popped up on Spotify, the last place one would look for new Prince material given his removal of his catalogue from the service in July. When that occurred, it felt as if Prince had just been alerted to the fact that these platforms were becoming a real force, and that he could exert his all-powerful influence on them — this being the only thing he likes wielding better than a guitar. It was only a few years ago when he declared that the internet was "over" and that he was exclusively going to release his work on CD. Now that new computers don't have CD players in them, it was time, it seemed, for Prince to play catch up and concoct his newest scheme.
However, if those of us who have resisted Tidal (most of us) can ever hear it, this album seems like it could be one of the more promising Prince projects in a while. The two singles the Purple One has deigned to let us hear come from two somewhat opposite sides of the Prince spectrum, sound inspired, if unsurprising stylistically.
"HARDROCKLOVER" is a big, gaudy anthem which, in its drastic dynamic shifts and arrangement, recalls Purple Rain's "Darling Nikki." Soft verses of cooing semi-rapping about partying with "Red Bull and Patron" are alternating with blistering, guitar-solo-driven instrumental breaks (Prince making his hard rock lover "scream", of course). It's the kind of slightly-misguided batshit concept that only Prince can get away with. It could be cause for concern if the better part of HitNRun ended up being along the same lines as this point, but "HARDROCKLOVER" is definitely less self-indulgent and self-serious than the better part of Prince's psychedelic-freakout material of the past couple of decades.
The Spotify loosie "Stare," on the other hand, seems like Prince's concerted effort to remind all of his acolytes who are making bigger waves than him these days (see D'Angelo's Black Messiah and Miguel's newest album) that he can still deliver taut, new-wave-tinged funk better than anyone. An initial gut feeling of this record being some sort of forced "return to form" (there's even a direct "Kiss" reference which feels more than a bit extra) is overcome by the song's immediate chorus, its cleverly mutating horn section, and Prince's dry-but-infectious energy.
In late July, Prince's band, 3RDEYEGIRL, made a vaguely contradictory statement about the album, claiming that it was both "experimental" (adjectives which, at this point, signify Prince-as-usual) and designed for "hardcore Prince fans," as well as focused on delivering "hit after hit." One wonders which way the scale will tip, and if the balance will make for a compelling package. However, if these singles are any indication, HitNRun may be one of the post-'90s Prince projects that's worth hunting for.