Why Lupe Fiasco's 'Street Fighter' Win Is a Victory for the Fighting Game Scene
eSports is blowing up. The Chicago rapper just made it nuclear.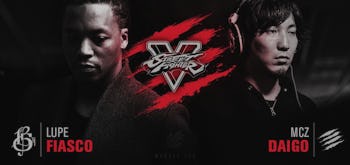 Markel Lee
During the 2016 Grammy Awards, the multi-award nominated hip-hop musician Lupe Fiasco wasn't in attendance. Instead, he was playing video games, and it's a move that will bring a seismic change to the eSports fighting game community.
On Monday night, Lupe Fiasco battled renowned gamer Daigo Umehara, a Japanese master who bears the moniker "The Beast" and one of the first gamers to sign a sponsorship deal, to a match in Street Fighter V. The duel was meant to be a laid-back exhibition celebrating the release of Capcom's newest game, and Fiasco previously tweeted it would "be an honor" to lose to Daigo.
After beating Daigo in the best of three rounds, Lupe Fiasco won.
The whole affair began in January when a fan asked Fiasco on Twitter if he watches Evo, more formally the Evolution Championship Series, to which the musician replied "Only to study Daigo." Evo is an annual open tournament for professional and amateur competitors in games like Street Fighter, Super Smash Bros., and Tekken. Since its inception in 2002, Evo has been the Mecca for devotees, anchoring a thriving community that's grown unknown to the general public. Upon seeing Fiasco's tweets, video game peripheral company Mad Catz tweeted out the idea of a match, and Fiasco jumped at the opportunity with rabid enthusiasm.
After Lupe's win, fans speculated if their fight was rigged. Fans noticed Umehara wasn't playing his usual sharpest, leading to speculation it was a publicity stunt, like if Nike sanctioned a pickup game between a fan and LeBron James and the fan outshines the Cleveland superstar while wearing LeBron's latest shoes.
Of course, Mad Catz's Alex Verrey told Kotaku it wasn't staged and that "Daigo would never allow such a thing," but that didn't and won't stop the internet's conspiracy theorists. But those who declare the match a farce miss the most important thing: It doesn't matter.
Putting aside that everyone involved said upfront the match was to publicize the release of Street Fighter V, which is the definition of an exhibition match, as well as the perfectly legitimate reasons why Street Fighter's best player wasn't on his A-game (including his jet lag and a general unfamiliarity with the new game have been mentioned). The most important thing to know is there is now a humongous spotlight that Fiasco has brought upon his beloved fighting game community.
eSports is going nuclear. The industry is about to rake in billions the next few years, and its profile is higher than ever. But the fighting game scene is somewhat detached from the higher profile MOBAs or first-person shooters enjoy, which are leaping from Twitch and onto ESPN and cable television. Aside from a single documentary series on pro Mortal Kombat X players on the CW this month, Fiasco's involvement is one of the biggest pushes for fighting game competition into the mainstream. Not that fighting games were in any danger prior to Lupe; they were doing all right online and at Evo. But "all right" isn't enough when not a single fighting game was among Twitch's top viewed games throughout all of 2015. If the community cares about its health, it will revel its time in the limelight.
In addition to exposure comes scrutiny, much of it necessary. The increased awareness of the fighting games scene will lead to all kinds of important questions: Are any fighting game pros abusing enhancement drugs? Are competitors getting enough sleep? Will competitors have to form a player's union?
None of these questions will be answered in the immediacy of a rapper beating a pro gamer in his own domain. But for certain, the absurdity, shock, and disbelief of it all is the right maneuver for fighting games if the community wishes to keep fighting for tomorrow.
You can watch Fiasco and Daigo's match in its entirety below.