Watch Rapper Lupe Fiasco Beat Gaming Legend Daigo at 'Street Fighter V'
Professional rapper, rock musician, producer ... and gamer?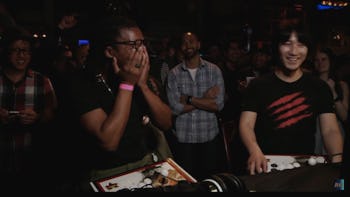 Youtube
"This could be Lupe's new career path!" the announcer shouted, as Lupe Fiasco won his first round against Daigo Umehara, one of the greatest players in the highly-competitive video game Street Fighter's history.
The clash of two titans — critically acclaimed rapper, producer, and singer Lupe Fiasco and gaming legend Daigo Umehara — was a fairytale story made on Twitter.
A few days ago, notable video game fan Lupe Fiasco remarked that he was a disciple of Daigo Umehara, possibly the most recognizable name in the competitive fighting game circuit. A fan asked the rapper if he watched Evo, the longest running competitive fighting game tournament in the world.
Lupe replied quickly, name dropping Daigo, and then, out of nowhere, a representative from Daigo's sponsors, Mad Catz, jumped in:
Lupe, exuding the kind of fan-boy glee and number of exclamation points usually reserved for people meeting their idols, like world-famous musicians, was all about it.
And so, #LupeVsDaigo was born. The rapper set out to train for his climactic battle.
The internet loved it, and even before the respective parties made the matchup official, the fight had a poster card and top billing in the Street Fighter world.
Of course, Daigo was the heavy favorite. He was, after all, one of the e-sport's greatest professionals, while Lupe was, well, a musician with a joystick hobby.
Nevertheless, Lupe clearly came ready to play.
Daigo was jet lagged from his flight into San Francisco, but showed up to put Lupe in his place all the same.
The two sat down, and what followed was a hell of a time, even if you know nothing about Street Fighter. Watch the whole thing below, and try not to smile at the goofy look on the award-winning musician's face as he meets one of his heroes, and then beats him at their favorite video game. (Skip to 4:40 for the start of the action).