ESPN's Dedicated eSports Vertical Signals the First Legitimate Global Sport
Digital and always on, ESPN's dedication to eSports means there is now an unofficial worldwide sport.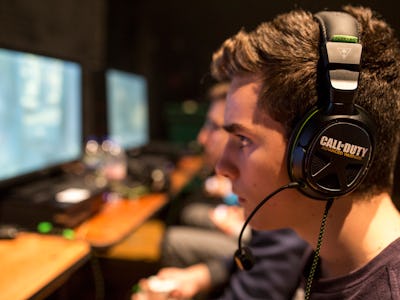 Getty
Because of its infancy and digital nature, professional video gaming's detractors scoff at its unique quirks. Buncha nerds, so the rhetoric goes. But this criticism ignores eSports' swelling popularity and revenue projected to hit billions by 2020. Thus, ESPN has entered the foray despite a dedicated eSports vertical, signaling the world has its first genuine global sport.
Speaking to the LA Times, ESPN.com, and ESPN The Magazine, editor-in-chief Chad Millman said "there was no reason" not to give eSports the same coverage they're performed for traditional sports. Citing the always-forward progression of pro gaming, Millman said ESPN is open to a significant presence on popular internet channels like Twitch.
24/7 coverage of pro gaming is an instance in which 24/7 isn't just sensible, it's almost necessary. Pro gaming has crossed borders more successfully than traditional sports; eSports claim dominance in Asia, western Europe, North America, Australia, and New Zealand. The wild time differences and lack of defined "seasons" across leagues and games means something is always happening somewhere.
Though ESPN's eSports coverage is dedicated to only the biggest of longstanding industry titles like League of Legends and Dota 2 at the moment, the vertical's growth will eventually have to include fighting game and FPS competitions. At this moment, elite Call of Duty teams are squaring off for a cool $3 million in the worldwide Call of Duty: World League.