What to Expect From Wiz Khalifa's New Album 'Khalifa'
The Pittsburgh rapper has been famous for awhile, but now he is undeniably massive.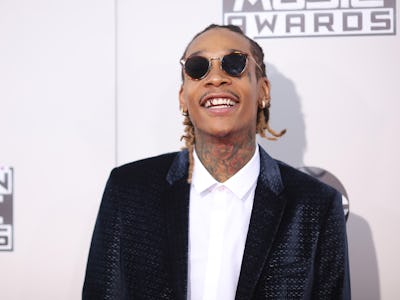 Mark Davis/Getty Images
Wiz Khalifa was popular before 2015. His debut album Rolling Papers went gold and housed the triple platinum single "Black and Yellow." After that, his 2014 effort Blacc Hollywood hit number 1 on the Billboard 200 albums chart.
But then, suddenly, Cameron Jibril Thomaz met Charlie Puth. And Wiz Khalifa experienced the true meaning of "fame."
The two came together, of course, for "See You Again," a Paul Walker tribute song made for the Furious 7 that has certainly exceed everybody's expectations. The Recording Industry Association of America certifies it as quadruple platinum. Its music video has over 1.7 billion views on YouTube. It was also on the top of the Billboard Hot 100 for 12 non-consecutive weeks, which earned it a third-place spot on the Hot 100 year-end list, as well. "See You Again" got several Grammy nominations, and not just for movie-related categories. It's up for Best Fucking Song of the Year, along with good music like Kendrick Lamar's "Alright" and Taylor Swift's "Blank Space."
The fame afforded to Wiz by "See You Again" is how he gets to attend the Golden Globes — where he lost to Sam Smith's (not-as-good-as-Radiohead's) Spectre theme for Best Original Song. On the red carpet for the awards show — a place, again, that he can go because of Charlie Puth — Wiz announced that his next album, Khalifa, will be out January 22.
Wiz Khalifa is an experienced rapper with three major label solo albums, several independent albums, and countless mixtapes in his discography. But Khalifa will be the first time he's catering to an audience that's not just big, not huge, but absolutely massive. Ironically, Khalifa is as close to a self-titled effort as Wiz has, but logic dictates it would be a pop-pandering album, given his newfound superstardom. The early signs, however, point to Wiz doing anything but selling out for his upcoming album.
It's not yet clear what Wiz will choose to include on Khalifa, especially because he'd led the public to believe his next effort would be Rolling Papers 2: The Weed Album. With that ethos in mind, his subject matter has remained quite stonery, apt for a guy who regularly poses for red carpet photos by holding the proverbial joint.
One of the first possible Khalifa singles is "Burn Slow" with Rae Sremmurd. It's produced by Mike WiLL Made-It, providing the track with a strange contrast between thudding bass and Wiz's cloud-rap-adjacent vibe and subject matter. Typically, Wiz separates those worlds, making "We Dem Boyz," for instance, a banger while reserving moodier cuts like "Respect" for mixtapes, as with the recent Cabin Fever 3.
The second single, "No Social Media" (produced by Pittsburgh's ID Labs, a frequent aide to Mac Miller, too), does not have the same on-the-nose topic as "Burn Slow" (despite a Snoop Dogg feature). With ID Labs' light touch in production, however, it sounds a bit more weed-appropriate. Nevertheless, the loud snares and pulsating bass of New Wiz remain, making it suitable for 2016, and possibly the radio. The regrettable line, "Fuck a selfie stick, suck a healthy dick, bitch," however, reminds you that this is the same guy who was on "Pussy Overrated."
"King of Everything," the following single, is the one where Wiz goes for broke. No marijuana pretenses. Modern production. It's an effort to replicate earlier success. And it works. As evidenced by "No Social Media"'s lyricism, or lack thereof, Wiz is best when he can drop a hook and slide through a catchy beat.
The irony of "King of Everything"'s success, however, is that Wiz Khalifa is supposed to be a marquee artist now. Typically, big name musicians have recognizable styles. Wiz, though, is angling to be a pop star, not a rapper. "See You Again" is breezy and easy to sing along to, even during Wiz's verses. He is simply there for the song and does not screw anything up. "King of Everything" is the hip-hop equivalent of that. It's a readymade banger. Wiz just happens to be the one to get to spit on it.
It will be interesting to see how Wiz approaches Khalifa as a whole. There could be plenty of tepid "Burn Slow"-like tracks on there, if he wants to regain some credibility in hip-hop circles — something he has not had with certainty since 2010's breakout Kush & OJ. But he has a very important window right now. People still remember and love "See You Again," and it's getting primetime recognition during awards season. If Wiz Khalifa wants to be the biggest rapper in the world — not the best — then he needs to strike right now with another potential hit. "No Social Media" is too wishy-washy, uncommitted to rap or pop. "King of Everything" is a start, but is more of a kernel than a finished product. Khalifa will be the moment where Wiz Khalifa decides if he's willing or able to rule the radio rap world.