Winter Songs for the Summer
Five tracks that sound better in warmer weather.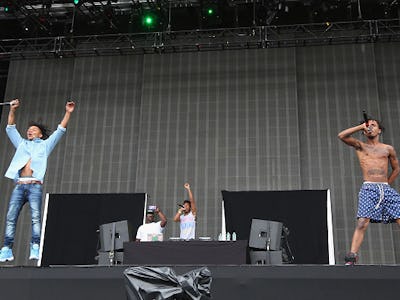 Taylor Hill via Getty Images
Songs and albums come out at seemingly arbitrary times. Sometimes an album's themes correspond with the season; Kanye West's dark and lonely 808s & Heartbreak, for example, came out in November. But other times, whether due to delays or label issues, an album comes out at the absolute wrong time. (All three of Vampire Weekend's albums are best experienced in seasons that don't correspond with their release dates.) Here is a rundown of some key tracks that came out this past winter that may not have clicked on release, but shine with the warmer weather.
Rae Sremmurd: "This Could Be Us"
Rae Sremmurd's debut SremmLife just missed Christmas sales coming out in the first week of January. Singles "No Type" and "No Flex Zone" had already ruled summer airwaves in 2014, but now is "This Could Be Us"'s time. Fittingly, the song got a music video in May to prepare for a summer surge. The light keyboards, Swae Lee's sung second verse, and an endearing hopefulness are perfect for that summer night when you don't finally get the courage to talk to that special someone.
Cashmere Cat: "Adore" [ft. Ariana Grande]
Released on March 3 (sneaking into winter), Cashmere Cat linked up with Ariana Grande for a low-key EDM smash to follow up their 2014 collaboration "Be My Baby" from Grande's still-great My Everything. "Adore" has a substantial yet subtle drop that is more quiet-night-on-a-roof than festival rave.
Remy Banks: "rem." [ft. Nasty Nigel]
Queens rapper Remy Banks has the ear of the right people; he recently toured with Earl Sweatshirt and Vince Staples. Produced by Left Brain of Odd Future, "rem." is a ready-made New York nostalgia track: an update on the classic boom-bap sound.
Rich Homie Quan: "Flex (Ooh, Ooh, Ooh)"
Originally released in February, "Flex" is Quan's best since "Type of Way." Produced by Nitti (of "It's Goin' Down" fame) and DJ Spinz, the West Coast beat has a breezy bounce to it. Quan's rap-sung hook of "Ooh, ooh, ooh" may be the new "La, la, la."
Trinidad James: "T Jame$ Expre$$"
Trinidad James's most recent claim to fame is Mark Ronson and Bruno Mars's interpolation of his "All Gold Everything" lyrics for their hit "Uptown Funk." "T Jame$ Expre$$" is an outlier from his recent No One Is $afe mixtape. Somewhere between a funk and a dance track, "T Jame$ Expre$$" is a showcase for producer Derek "DJA" Allen (of Mad Decent). The track revels and excels in its own ridiculousness.