What Should the 'Fast & Furious' Spin-Offs Be?
Let's speculate on which characters from the geared-up franchise will get to live on-screen in their own adventures.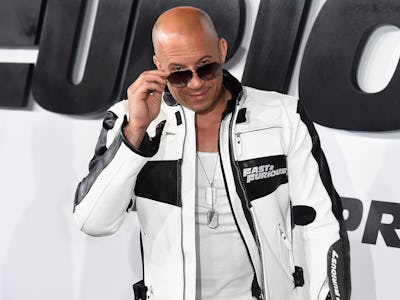 Getty Images
We've come a long way since Vin Diesel and Paul Walker were stealing DVD players in 2001's The Fast and the Furious. Over 14 years and seven movies, Dominic Toretto (Diesel) and his high octane and indestructible group of street racers-turned-superheroes have morphed what started out as an excuse to showcase souped-up Hondas into something akin to a Bond-like franchise for Corona-swilling bros. The Fast & Furious now comes replete with its own convoluted — but still ridiculously awesome — mythology that grew from each successive movie. In an increasingly Marvel-ized Hollywood landscape, it's no surprise that following the eighth installment of the franchise , the billion-dollar series from Universal will start branching out into standalone movies.
In an exclusive report by Variety last week, Diesel explained, "We've written out story lines for various characters," and that, "We've been playing with it for a long time. It's a very rich property and we're committed to treating it with a lot of class." While "class" isn't the first word you'd think about when you think about Fast & Furious movies, it's reassuring that the beefy bald dude who's been with the franchise since the beginning is treating the world with the same reverence as the fans. Diesel declined to name which F&F characters will get their own movie adventures, but we'll take the initiative as fans of the franchise to speculate on what those movies could be.
5. Mr. Nobody
This pick is a bit of a wild card since Kurt Russell's character was most recently introduced in Furious 7, but being that new means there's still room to make up kickass stories without having to worry about old details bogging him down. Russell's Mr. Nobody is a secretive government agent who, for some ridiculous reason, pulls in Toretto and his team for F7 to catch a terrorist who has captured an all-powerful hacking device called the "God's Eye." What does this have to do with a group of people who are best known for their racing skills? Absolutely nothing, but that's what makes F7 so outrageously fun. It's this random room for balls-to-the-wall action that makes us into the idea of having Russell's cool, calm, and collected covert operative swoop in to situations (and other movies) and recruit other rag-tag teams for suicide missions. If the studio is able to make the movies with new teams into hits, there's a chance to make even more money. It just makes sense, and dollars and cents.
4. Tej and Roman
The franchise was basically resurrected with Fast Five, the movie that somehow managed to turn the team of racers into a vigilante special ops team. The subsequent two movies have made for a uniquely bonkers trilogy, and one of the highlights has been the comedic rapport between Ludacris and Tyrese's characters, Tej and Roman. Both were actually introduced in the nadir of the series, 2003's 2 Fast 2 Furious, but remained apart until Fast Five. Ludacris' money-hungry mechanic was reintroduced as the team's tech guy, while Tyrese's hot-headed Vin Diesel stand-in was rebranded as the roguish clown who won't let a moment pass without quipping. The pair are, without a doubt, audience favorites, and while a standalone movie with the two wouldn't necessarily have to be a sitcom about their home lives, a moderately budgeted Fast & Furious buddy comedy with these two would make serious bank.
3. Dom
In the Variety exclusive, Diesel stopped just short of admitting his character would get his own series of movies. It's the most obvious choice since the news broke, but is it too obvious? Any Dom-centric movie could possibly veer too close to the main series, but those have always been about the collective family of racers working together. After the death of Paul Walker, and his character's subsequent retirement from the series, it makes sense that Dom could possibly wander the earth like a sad, gear-shifting ronin getting into crazy side adventures. Plus, in the bizarre timeline of the whole franchise, Dom shows up at the end of Tokyo Drift, the unrelated third movie released and sixth movie chronologically. This means he's already out on his own doing whatever, and a standalone series could do well in exploring that.
2. Luke Hobbs
Dom may be the most obvious choice, but the next obvious choice is Dwayne Johnson's exceedingly sweaty and persistently muscly Diplomatic Security Service agent Luke Hobbs. Ludacris and Tyrese may be audience favorites because of their slapstick, but Johnson is an audience favorite because he's an all around badass. Like Mr. Nobody, Johnson's character is relatively new, having only been introduced in Fast Five. What's even better is that in the Fast Five post credits sequence, Hobbs is seen talking with agent Monica Fuentes, Eva Mendes' character from 2 Fast 2 Furious, opening up the possibility that there's plenty of life outside of dealing with Vin Diesel and his crew to cover for Hobbs.
Side note: we wouldn't complain if all the Hobbs movies consisted of are Johnson constantly Rock Bottom-ing bad guys for two hours. He's self-described "franchise Viagra," so why not give him his own franchise?
1. Han and Gisele
We still toast a Corona and shed a tear whenever we think of (spoilers) Gisele dying in Furious 6 while saving Han's life. What emerged in the later movies is the relationship that blossomed between Sung Kang and Gal Gadot's characters, and with her gone there isn't an emotional core outside of Diesel trying to emote actual human feelings. Like Hobbs and Dom, there's enough backstory baked into the series to leave a Han and Gisele story open as both were seen pulling jobs together in Hong Kong at the start of Furious 6. Where were they, what were they doing, and how long before we can get these back onscreen together? Gadot is set to breakout as Wonder Woman next year, so a new franchise starring her would hit at just the right time.
Just because we love them so much, here's another clip of Han and Gisele. Seriously, this movie needs to happen.