Mac Miller's New Beat Tape 'Run-On Sentences, Volume Two' Is Total Experimentation
Shortly after sharing a "Vienna" cover, Larry Fisherman is back with some strange beats.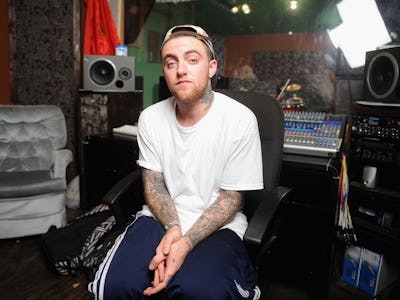 Jamie McCarthy/Getty Images
Last week, polarizing Pittsburgh rapper Mac Miller covered Billy Joel's 1977 classic piano ballad "Vienna" under his producer alias Larry Fisherman. It was a strange move, to say the least. Now, just a few days later, Miller has shared another Larry Fisherman project: a 27-minute instrumental beat tape called Run-On Sentences, Volume Two. As the title suggests, it's the follow-up to 2013's similarly heady project, Run-On Sentences, Volume One.
Run-On Sentences, Volume Two is best absorbed as a single block. There are few standout moments early on, but plenty of wacky samples, including one on "Hulu" where someone talks about Chinese agricultural techniques. The ending, beginning with "Funk Me," however, becomes much more sonically interesting. While Miller spends the rest of the tape trying his hand at jazzier techniques, he finally adds in some much-needed bass and favors power to smoothness. "Best for Last," which is not, in fact, the final track, is off-kilter and jarring while still remaining entirely listenable.
The tape ends with "Smile," which Miller has singled out as particularly "special" to him, likely because he finally lends his own voice to the project. With synth organs backing a lo-fi singing Miller, it's a pretty tender moment, filled with his lovable and sophomoric aphorisms: "This gravity won't let me go," "The Devil always smile when you need a friend." Unlike the rest of Run-On Two, it's uncluttered, which makes it the song most worth a revisit.
Beginning with "Vienna," and now with Run-On Sentences, Volume Two, Mac Miller (or Larry Fisherman, whatever the fuck you wanna call the 23-year-old born Malcolm James McCormick) is truly embracing himself. Miller has maintained that his 2015 album GO:OD AM is both the most satisfying and best project he's ever made (and he's right). It's personal without being overly indulgent or saccharine, with 17 enjoyable tracks of real quality. But he's done weirder, like his 2013 pitched-up horrorcore mixtape Delusional Thomas, another character of his.
Inverse's Winston Cook-Wilson has suggested that Miller's "Vienna" cover is a moment of crisis for the artist. He writes:
"Is Mac gearing up to make a pseudo-singer/songwriter album, and for it to be a dead-on-arrival vanity project? Or does he want to make fat hits the size of the stuff Joel was just crapping out for laughs in the tail end of the roaring '70s, and this is his small way of doffing his cap directly to the guy that inspires him to keep going?"
With Run-On Sentences, Volume Two, Mac Miller is keeping the vanity train chugging along, but he's done so in a much more intriguing way. It's not quite a throwaway, but it's not essential by any means — listen to GO:OD AM for anything of substance. Miller is simply getting all of his creative impulses out while they're pouring out of him. It's got brief moments of brilliance amid a lot of flotsam. If this is what it takes for Mac Miller to progress, then let him experiment his heart away.