In Defense of Mac Miller
The former frat rapper is no longer the punchline; he delivers them.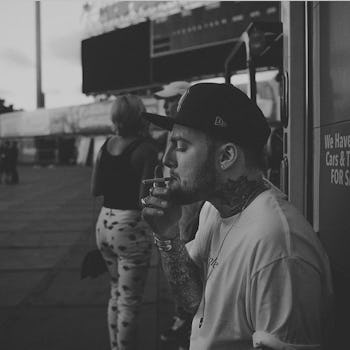 Levi Felder/Mac Miller Instagram (@larryfisherman)
On September 18, Mac Miller will release his major label debut, GO:OD AM, through Warner Bros. Records. For many, Miller has been incredibly easy to hate and dismiss without engaging with his music (see: More, Mackle). He was some grody-looking white kid from Pittsburgh who rode Wiz Khalifa's kush clouds to national prominence. He had a goofy smile and made songs about partying. But in June 2013, Miller somehow went from afterthought to reputable with his sophomore album, Watching Movies With the Sound Off.
Watching Movies' credits are hard to ignore: Pharrell Williams, Diplo, Flying Lotus, Tyler, the Creator, Earl Sweatshirt, Jay Electronica, and Clams Casino are just some of the album's featured rappers and producers. Before that, Miller also got Kendrick Lamar, Lil Wayne, Cam'ron, Juicy J, and Lex Luger on his 2012 mixtape Macadelic. As an independent artist (Miller famously topped the charts with 2011's Blue Slide Park on Rostrum Records), these guests were not (at least obviously) obligated to appear. Miller's peers saw potential in him while many were just laughing.
Even with a star-studded tracklist and a critical backing, Watching Movies is far from perfect. One of its better songs — "Gees" with Schoolboy Q — boasts the instantly-nauseating hook, "Bitch, suck my dick before I slap you with it / Gees." The album also closes with a whimper, with Miller trying his hand at singing heartfelt songs that sound too personal to really click with the listener.
At times, however, Miller weaves his personal struggles into his songs without being overbearing. On Watching Movies' intro track, "The Star Room," he raps about his father being potentially disappointed in him, but what really clicks is the song's mellow, dark instrumental. On early mixtapes (particularly 2010's K.I.D.S.) Miller was unnecessarily happy-go-lucky. He was saying nothing then, and it sounded dumb because the songs were inconsequential. He's still saying very little, but his lyrical skills have improved and the songs sound like they matter.
After some very public substance abuse issues (2014's Faces served as a drug-happy last hurrah), Miller sounds more at ease on GO:OD AM's lead single, "100 Grandkids."
Sounding relaxed certainly suits Miller, who rhymes MF DOOM-inspired bars of little-to-no consequence: "I could sell snow to a ski slope/ I could sell evil to the devil, non-believers to a temple/ Shit, I could sell water to a speedboat." The way he speeds up his flow for the three interconnected thoughts is a testament to his ability to create moments. There's no thesis to his work; it's just an enjoyable ride, and it's up to you which lines will resonate and bounce around your head all day. Miller realizes it, too, like on "Just Some Raps, Nothing to See Here, Move Along," where he spits fire to no end.
"Wrote the formula for defeat in the ordering such / A warrior, I'm too much, watching porn on the camcorder while I'm ordering lunch / I give you more than enough, what?"
Today, he released GO:OD AM's second single, "Break the Law." The song has a jazzy beat, but it also ends with Miller singing "la la la." Still, lines like, "Aurora borealis with the shine, my aura gorgeous/ Dinner with 40 courses," can put a smile on your face with its precise playfulness. Mac Miller doesn't need to make high-stakes songs, as long as he keeps making good ones.