Funny, 'The Martian' Won Golden Globe for 'Best Comedy' 
Is it weird that 'The Martian' won big in comedy categories at the 2016 Golden Globe Awards?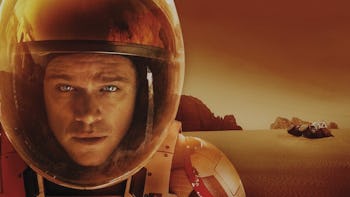 Ako emih via Wikimedia Commons
The world wondered "Really?" when The Martian, a sci-fi film based on Andy Weir's 2011 novel, was nominated for a Golden Globe in the category of Best Motion Picture, Musical or Comedy. Matt Damon stars as an astronaut who was left behind on the Red Planet, struggling to survive and be rescued. What a hoot, right?
Well tonight, Damon actually won for Best Actor in a Comedy or Musical and then the The Martian won in its nominated category at the 73rd Annual Golden Globe Awards. How did the actor react to being granted this mismatched honor? Entertainment Weekly reports that backstage, the former Will Hunting joked that, "No, it's a musical. And I think that's what the 18-year gap was, me working on my singing."
Hopefully, he was being lighthearted and not facetious. But who knows what's going on in Damon's Martian head?
Director Ridley Scott addressed the topic head-on when he hit the stage, award in tow, "Comedy?" he asked then gestured a "maybe" with his hand.
He noted that this was a great year at the box office, which is great for all those in the business. Scott mentioned the immense success of Star Wars. "I was left in the dust," he read off a paper, "except we did pretty good, and that put everything in perspective." He called being steamrolled by the massive hit "inspiring," saying, "You've got to stay hungry."
He garnered a few giggles with a well-timed "screw you" as the musical cue for him to shut his trap rose in volume. That's definitely comedy.
The Golden Globes are always the most casual award ceremony with the filthiest bleeped out jokes and most painfully awkward moments. If anyone was serving up laughs, it most definitely was host Ricky Gervais who messed with everyone from Mel Gibson (again) to Eddie Redmayne. Watch some clips tomorrow for a real taste of hilarious that'll put The Martian's jokes to shame.