'The Martian' Wins the Box Office For a Second Week In a Row
October belongs to the Red Planet.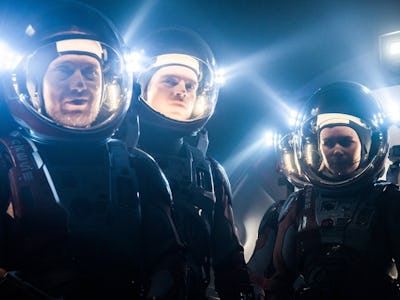 www.foxmovies.com/movies/the-martian
Look at our predictions from last week and then look below and you may think you're seeing double. But don't worry, Inverse's Random Box Office Prediction Generator 3000 is just that good. As a genius once said, "When you're right, you're right." And we were right. Here's everything you need to know from what happened at theaters this weekend.
What Won: The Martian
We'll say it again: This month is Red Planet October. Ridley Scott's sci-fi thriller won the box office for a second weekend in a row, adding another $37 million to its tally. The film now stands at nearly $228 million worldwide. The Martian dropped only 32 percent in its second weekend, which was still more steep than the similar-themed space emergency movie Gravity, which dropped a little over 22 percent in its second weekend of release in 2013. It was enough to outpace another space epic, Christopher Nolan's Interstellar, which only managed upwards of $28 million in its second weekend. Look for The Martian to keep steadily raking in money as it remains in the Oscar conversation until early next year. It might even have enough legs to beat star Matt Damon's current top-grossing domestic movie, The Bourne Ultimatum, if it can more than double its present $108 million domestic rake.
What Was Disappointing: Pan
Director Joe Wright's bizarre retelling of the Peter Pan mythos was only able to manage $15.5 million for third place, less-than-stellar margins considering its $150 million budget. Blame the D.O.A. dud on weirdly anachronistic flourishes like the lost boys turned into slaves who sing "Smells Like Teen Spirit" and "Blitzkrieg Bop," or blame it on Peter Pan fatigue. The Pan story has been shuffled around before, most notably in Steven Spielberg's Hook, though that film is widely considered to be a minor disaster and one of Spielberg's least-liked movies. Maybe the filmmakers behind Pan could have learned from others' mistakes. One day Pan apologists will insist it's an overlooked gem, but first it needs to become a full-blown box office bomb. Conveniently that should be soon enough; Pan will all but disappear from the box office list next week.
What Was Surprising: Steve Jobs
Though it was only in four theaters in New York and Los Angeles, Steve Jobs managed a respectable $521,000 haul over the weekend. That $130,236 per theater average isn't too shabby considering it's the year's best per-theater average debut, and is a great indicator for how much more director Danny Boyle and screenwriter Aaron Sorkin's unconventional biopic will make when it expands nationwide on October 23. Ashton Kutcher's 2013 Jobs biopic only mustered $16 million in its entire domestic run. Appropriately enough, Boyle and Sorkin tried to think different. It'll pay off.
What You Should Take a Chance On: Goosebumps
It's October — time for you and the kids to get your scare on. The adaptation of the beloved anthology series Goosebumps tracks a fictionalized version of author R.L. Stine (played by Jack Black) having to wrangle monsters who have escaped from his books. The premise alone is enough to give it a shot, and early reviews seem to love it.