Western Digital Is Now Selling Cheaper Xbox Storage Expansion Cards
Easier on your wallet than a Seagate one.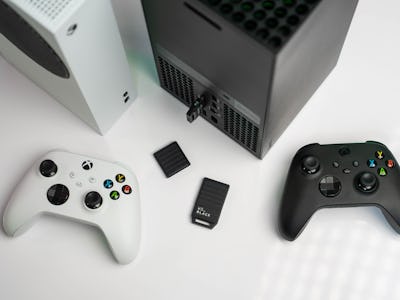 Western Digital
With major AAA titles frequently hitting above 100GB storage space requirements, additional storage for Xbox consoles is essentially a requirement. We've had an expansion storage card from Seagate for some time now, but that was the only option for a while.
After leaking in April, Western Digital has released its WD_BLACK C50 Expansion Card for the Xbox Series X and S, adding a much-needed alternative, especially when it comes to affordability.
The benefit for you, dear gamer, couldn't be more obvious: with competition, Seagate has since dropped the price of its 1TB expansion cards from the original $220 to its now $149.99 retail price.
NEVER ENOUGH STORAGE
With the WD_BLACK C50 Expansion Card, you get 512GB and 1TB options. Unlike Seagate, Western Digital isn't offering a 2TB option. As much space as that sounds like, it makes a lot of sense when you look at the absurd storage requirements of games like Call of Duty: Modern Warfare or Halo: The Master Chief Collection.
More importantly, the WD_BLACK C50 Expansion Card is officially licensed by Xbox, meaning it's plug-and-play with your Xbox Series X or S. It uses the same Xbox Velocity Architecture that the console's built-in internal storage uses so you'll get the same performance.
You won't run into any compatibility issues and the WD_BLACK C50 Expansion Card even allows for Quick Resume, so you can pause your game, switch off to another game, and later come back to the paused game to continue where you left off. Quick Resume can only be done if the game is on Xbox's internal storage or an expansion card.
STORAGE WARS
If you don't want a clunky external hard drive option, the WD_BLACK C50 Expansion Card is a better solution. Although, the slim design and compatibility features do come with an upcharge. Western Digital's 512GB option starts at $79.99, while the 1TB option goes for $149.99. For those keeping score, Western Digital's 512GB option is $10 cheaper than Seagate, but the 1TB options are similarly priced.
Either way, Western Digital offering its own expansion cards arrive just in time to pair up with the new Carbon Black Xbox Series S. It could also mean that Microsoft is opening up storage expansion design to more third-party brands. If that's the case, we may be seeing more affordable options down the line, which would be a huge win for consumers. In this economic climate, every dollar counts.