Call of Duty's Only Hope for a Much-Needed Reset Was Just Blocked
Activision will continue to churn out middling annualized releases.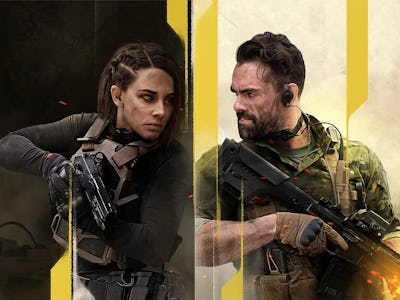 Activision
The ongoing Microsoft-Activision deal that has made headlines since its January 2022 announcement has seemingly come to an end after the UK's Competition and Markets Authority (CMA) moved to block the acquisition. While the potential acquisition has always raised numerous concerns about consolidation in the industry, the potential silver lining was in what Microsoft might do with Call of Duty. Activision's wildly popular flagship game franchise, however lucrative, has been stagnant in recent years as studios churn out release after release. It's unclear how the potential acquisition might have changed Call of Duty's development, but now, there are few reasons to expect any meaningful changes behind the scenes.
Recent Call of Duty entries have felt stale or downright unfinished. The community has grown frustrated with Activision's support for Modern Warfare 2 and Warzone 2.0, which are both packed with problems, even months after release.
In Inverse's Call of Duty: Warzone 2.0 review, we noted that the game "tries to cater to a wider audience by borrowing ideas from its competition, but it delivers a hodgepodge of ideas that seems to forget what made the original Warzone so iconic." Nearly six months later, very little has changed. Updates are few and far between, and progress remains slow. Despite sporadic rumors that Activision might skip 2023, the company doubled down earlier this week by confirming a "full annual premium release" would be released before the end of the year.
Though Call of Duty production has historically been split between several different studios, the increasing workload has left them all spread too thin. Between pumping out new updates for the base games and iterations of Warzone 2.0, that leaves little time to meaningfully develop whatever's next. It's not sustainable and inevitably leads to not only burnout among developers but a worse product.
If Microsoft had acquired Activision, the company may have restructured how Call of Duty games are developed. Since 2005, a new Call of Duty entry has launched every single year, but as expectations and game budgets have scaled upward in recent years, the sustainability of this business model has crumbled. Something's gotta give.
Microsoft is known for taking its time with its first-party games, as evident by the upcoming Starfield, which was delayed by nearly a year (and has been in the works for over a decade). But this isn't the only example. Other titles like Perfect Dark, Forza Motorsport, Fable, State of Decay 3, and many others have been in the works for a long time. Even Halo Infinite saw several delays over its lengthy development. It's clear Microsoft is focused on quality over quantity, and Call of Duty might've benefitted from a similar approach.
Microsoft's output has been limited this generation. However, giving developers sufficient time to ensure a product is polished is an important factor. Sure, annualized titles drive guaranteed revenue each year, but if the product isn't up to snuff, players will eventually stop buying each installment, or they will flock to other games (like XDefiant!).
Call of Duty's player count has dropped by a significant amount since December 2022, going from 111 million monthly active players to 98 million as of March 31. The free-to-play battle royale hasn't done the best job of retaining players, which has no doubt hurt revenue from in-game microtransactions.
Under Microsoft's wing, the series might've taken a year (or more) off to allow developers enough time to create something special that could redefine the franchise for the next generation.
With the constant bombardment of releases — most of which have been disappointing — the only reasonable solution is to take a step back. Though, you shouldn't hold your breath as long as Activision remains behind the wheel.
It's possible the Microsoft-Activision deal could still go through. Microsoft said it will appeal the CMA's decision to block the acquisition, but it's unclear if this will change the outcome of the deal overall. Until something changes, Call of Duty games will likely continue to remain stagnant, as developers simply don't have the time and resources to create a high-quality product.