Ultrafast Xbox Expansion Cards Are Getting Even Cheaper
A premature listing on Best Buy suggests Western Digital will release a cheaper alternative to Seagate's 1TB storage expansion cards for Xbox.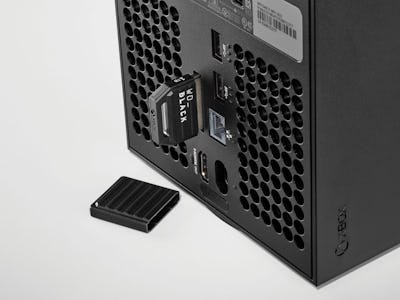 Best Buy
Seagate soon won't be the only one offering the best way to upgrade your Xbox's storage. Western Digital is expected to drop a 1TB expansion card that's designed specifically for Microsoft's Xbox Series X and S consoles. The accidental listing was seen on Best Buy and has since been removed, first reported by The Verge.
While these expansion cards have not been confirmed, the product page and images on Best Buy resemble a product that looks ready for market. Currently, Seagate is the only officially-licensed manufacturer of Xbox expansion cards, but this Western Digital listing points to Microsoft wanting to open up its partnerships with third-party storage companies.
PLUG-AND-PLAY DESIGN
The beauty of these Xbox expansion cards is their simplicity of design and use. Since they're designed to be used with Xbox Series X or S, you just plug them in and they're ready to go with extra storage for your console. The fast read/write speeds also allow you to play games directly off the card itself instead of having to transfer games back and forth between the card and your internal Xbox storage.
Seagate offers its expansion cards in 512GB, 1TB, and 2TB configurations, each of them being housed in a discrete form factor. For now, the Best Buy listing only shows a 1TB option for the Western Digital alternative, but it wouldn't be surprising to see 512GB and or 2TB options.
Expansion cards are a solid way to add a ton of extra storage to your Xbox, instead of having to connect a bulkier external drive with wires. Because of the compact design, expansion cards tend to get pretty expensive. Seagate's 1TB option retails for $219.99 but can be often seen on sale for around $30 cheaper. With Western Digital entering this product space, we could see some competition between these two companies as well as the potential for others to get into expansion cards.
UNDERCUTTING THE COMPETITION
Since the listing was taken down, we're guessing that Best Buy jumped the gun and put the product up early. According to an archived version of the page, Western Digital is pricing its 1TB expansion card at $179.99, which is significantly cheaper than Seagate's option.
Even when the listing was active, it showed no preorder or release dates for the expansion card. When Western Digital's compact storage card eventually does come out, we're expecting it to apply some pressure to Seagate, since it'll no longer be the only officially-licensed Xbox expansion card. With that, $200 may no longer be the going rate for a 1TB expansion card.