How Xbox Ditched the Hype Train to Foster "Intentional Inclusion"
Ushering in the next 10 years of indies at Xbox.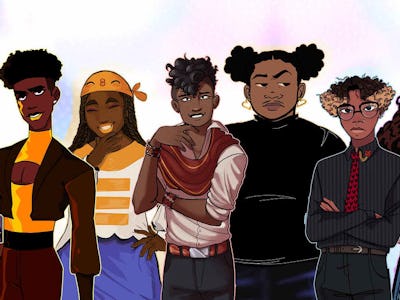 Veritable Joy Studios
When it comes to championing indie developers, Xbox has become one of the loudest voices in the gaming industry. Xbox Live Arcade was in a large part responsible for the rise to prominence that indie games have seen in the past decade.
ID@Xbox, the entity at Microsoft behind this, is celebrating its ten-year anniversary this year. Over that span, ID@Xbox has brought over 3,000 games to market — and paid out more than $4 billion to developers.
Looking to the future, the team has announced the Developer Acceleration Program, which aims to give unprecedented support to underrepresented devs. That includes people from the Black, Indigenous, Latino, and LGBTQIA+ communities, women, people with disabilities, and developers from emerging markets.
What's especially surprising, though, is that this program is already four years old.
"The program started back in 2019," program head James Lewis tells Inverse. "The ID@Xbox team saw an opportunity to help make sure that our diverse and underrepresented creators were set up for success to bring their games to the platform."
Keeping the announcement of a new program under wraps for years isn't what you expect from one of the largest companies in the industry. A pessimist would say that companies want to announce something as soon as it is given the green light so good press can start rolling in.
So why keep the Developer Acceleration Program under wraps this long? According to Program Manager Annette Gonzalez, it comes down to getting it right.
"Since the program started in 2019, we've obviously had a lot of time to learn and grow since then to the announcement today," she explains.
"A key pillar of this program is absolutely just lowering barriers across the board."
It's a strategy Xbox across its portfolio. 2023's surprise hit Hi-Fi Rush was revealed and released to the public on the same day, and became an overnight sensation. It comes down to an ethos of giving teams the time to do things right.
The version of the Developer Acceleration Program that ID@Xbox announced on March 21 will funds developers in bringing games to Xbox, the chance to prototype games, and access to monthly webinars that cover topics from marketing to certification prep. And Xbox exclusivity is never required.
The 2019 iteration of this program only had one of those things: funding for ports. But the team quickly realized there was more room for growth.
"Funding is obviously great. It helps a lot. But a lot of our teams haven't been able to build networks like people who've been in the industry for a long time," says Lewis.
"A key pillar of this program is absolutely just lowering barriers across the board," Gonzalez adds. "That includes education. We want to make sure they have the tools and resources they need at their disposal to be successful."
A big question that comes with the program is what exactly does "unrepresented" developer mean for Xbox? According to Xbox the "types of developers that we seek to support includes but is not limited to developers who are led by those from Black, Indigenous, Latino or LGBTQIA+ communities, women, developers with disabilities, developers from emerging markets or teams with unique perspectives." Supporting these developers is the foundational cornerstone of the Developer Acceleration Program.
"If you don't intentionally include, you unintentionally exclude."
With the celebration of 10 years of ID@XBox the Developer Acceleration Program is an acknowledgment that, "There's more work that we can do to make sure that we are being intentional and helping the developers that are underrepresented on our platform" says Lewis. That word – intentional – is key to the purpose of this new program.
"There is a quote that really inspires us: if you don't intentionally include, you unintentionally exclude," says Lewis.
The Developer Acceleration Program has partnered with more than 100 developers since 2019, leading to 27 shipped games through the program so far. All of these titles are highlighted in the Emerging Creators collection that's now live on the Xbox Store, which includes A Space for the Unbound and Validate to name a few. (Another benefit of announcing a program years after its inception is that you can easily point to the fruits of its labor.)
Above all, Lewis and Gonzalez want underrepresented devs to see their games on storefronts — and to cultivate a new generation of diverse talent in the industry.
"My hope is that we help usher folks through the games industry, help create more thriving careers, and open doors for the next generation of creators to come," says Gonzales.
"When our developers are having success," Lewis adds. "That is how I measure our success."