We're seeing some early growing pains, but the world of VR gaming has little to worry about.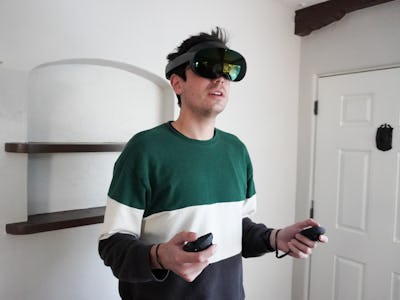 Ian Carlos Campbell / Inverse
Despite adoption from major companies like Meta and PlayStation, virtual reality gaming still hasn't reached a point of widespread appeal where it is the mainstream form of interactive entertainment.
While VR headsets are improving on the audiovisual level and prices are expected to come down, VR gaming's biggest drawback is its lack of must-play titles. For every Beat Saber, Half-Life: Alyx, or Horizon Call of the Mountain, there are dozens of sloppy VR shovelware games that leave a bad impression.
VR gaming keeps waiting for a big game publisher to go all in, but nobody has bitten yet. Just take a look at Tencent, the world's largest video game publisher, which has reportedly scrapped plans to build virtual reality hardware. According to a Reuters report, Tencent — known for its deep pocket of subsidiaries including Riot Games, Supercell, Grinding Gear Games, Klei Entertainment, and more — had extensive plans to build VR hardware and software. Recently, the company decided to shift away from that strategy, going so far as to tell its employees of its "extended reality" unit to look for other jobs.
With the biggest game publisher shunning VR gaming, you might be wondering if VR gaming has been a fad and the category as a whole is over. I'm no fortune teller, but the seemingly major blow to VR gaming is probably not a cause for concern if you follow the money.
GROWING PAINS
VR gaming was one of the first applications for VR that made sense. But it's not been without its rough patches — hurdles that have yet to be cleared since the release of the groundbreaking Oculus Rift in 2016.
The early days of Beat Saber, the popularity of Half-Life: Alyx, and the exciting gameplay of Superhot and Pistol Whip really helped form a real sense of what immersive, head-mounted gaming experiences could be. It's clear why all these tech companies dove into the VR market, particularly VR gaming.
Meta especially has put the most money in its mouth with billions poured into its metaverse and VR concepts — and yet we're not meaningfully closer to a Ready Player One reality than before. Meta has two headsets — the impressive, but expensive $1,500 Quest Pro that's aimed more at professional applications and the more consumer and wallet-friendly $399 Quest 2 — but neither has sold in the amounts nearing 2D consoles like the PlayStation 5, Xbox Series X, Nintendo Switch, or PC. To date, the Quest 2 has sold over 10 million units worldwide since its launch in 2020. The Nintendo Switch has sold 121 million units since 2017; the PS5 31 million consoles and Xbox Series X/S 20 million according to VGChartz.
Even six years after the Rift arrived, virtual reality is still a foreign concept to many. While VR has been touted as the next major computing platform poised to reinvent every industry, its embrace, especially for gaming, has been slow and steady.
Not even Meta is shielded from the growing pains. Recently, it announced that it was shutting down the beloved Echo VR servers to divert resources to other VR efforts. If Meta — the company that's staking its entire future on the metaverse and VR — is struggling, then it's not surprising that Tencent is backing away from the nascent platform.
NO SLOWING DOWN
Even with the latest hitches, the VR sky is not falling. Meta is gearing up to drop its highly anticipated Quest 3 later this year, which could provide a huge boost to VR gaming. After all, the Quest 2, is the closest consumer VR headset to competing with 2D consoles; its console-ish pricing is the easiest for consumer buy-in, too.
And let's not overlook Apple, which will reportedly join the fray with its first mixed reality headset that is rumored to support gaming as much as it will professional use. We're also waiting on Valve to announce any sort of news on a potential second-gen for its Index headset.
Sony also just released the PlayStation VR2, the follow-up to its 2016 headset. PSVR 2 represents a major investment from Sony, showing that it clearly still believes in the future of VR gaming. VR titles have only gotten more immersive and worthwhile too, like with the fresh release of the latest in the Horizon series, Horizon Call of the Mountain.
HTC, a company with much more experience in developing VR headsets, has also continued to develop VR hardware and recently announced the Vive XR Elite. HTC's latest high-powered standalone headset is clearly meant to challenge Meta's Quest Pro, but it can equally handle PC VR gaming through wireless streaming.
As you can see, contrary to popular belief that VR gaming has plateaued or interest is waning, major tech companies are still funneling mountains of money and resources into the space. There may be a few bumps along the way, but that's to be expected when trying to invent a real-life holodeck. Besides, these early issues can be seen as a way to shake out companies that don't have enough faith in the long-term success of VR gaming. Tencent may be withdrawing from VR investment in the near term, but unless the whole category collapses, it's unlikely a harbinger of things to come.