Valve Index: Specs, Price, How Steam's VR Rig Compares to the HTC Vive Pro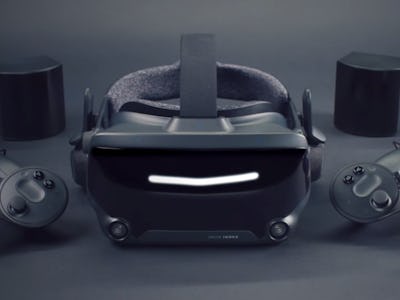 Valve
Valve took the wraps off of its $499 virtual reality headset, the Valve Index, on Tuesday. The famed video game development studio best known for its online gaming marketplace, Steam, will now give users the option to play the hundreds of SteamVR games on proprietary hardware.
The headset launched alongside a pair of $279 Index Controllers that strap on to users' palms to allow free finger movement. Finally, Valve also announced the release of the $149 Index Base Station, which will track users' motion using laser technology to allow customers to create a virtual space in their bedroom or living room. Pre-orders for Valve Index devices begin May 1 and the device will ship by June 28.
The three components can be purchased together in a $999 bundle, though the trio still requires a PC to use. The headset is also compatible with the HTC Vive's controllers and base station, so users who already have the Vive or Vive Pro may simply opt for the Index headset.
Valve Index Headset
While the Valve Index only improves upon the $799 Vive Pro's specs slightly, it will cost you a lot less money. Valve promises a resolution of 1,440x1,600 per eye (2,880 x 1,600 pixels combined) on LCD panels, a 120-hertz standard refresh rate, and a 130 degree field of view. Both the Index's refresh rate and field of view are superior to those found on the Vive Pro, yet it costs $300 less than the HTC's headset. That's a pretty good deal.
To lower its cost, Valve opted for LCD headset panels, instead of the AMOLED displays found on the Vive Pro. But this may not be much of a downgrade at all, LCD panels may actually be better for VR in one important regard, as it helps minimize the screen door effect, where little black dots seem to appear in your line of vision. At a maximum 144 Hz, the each eye display will refresh 144 times per second. Compare that to the Vive Pro's 90 Hz and the Index will likely make for much smoother VR gameplay.
The Index also comes with near-field off-ear speakers with 3D directional audio support and a built in microphone. While the front of the headset comes with built-in cameras with available sample code that can be used for computer vision projects or research.
Here's what will ship with the headset:
Integrated headphones
Headset Cable
Connection Cable featuring Display Port 1.2 and USB 3.0 Connections
Power Supply
Regionalized Power Adapter
Face Gasket
Cradle Adapter to adjust for head size
Cleaning Cloth
Valve Index Controllers
Valve has been testing its own VR headset controllers for three years now, which culminated with Tuesday's launch. The Index Controllers come with a joystick, A and B buttons, and touch slider for each hand.
These controllers come with palm straps to allow the base station to capture user's finger movements for more immersive VR interactions. Other VR hardware requires users to hold controllers and only tracks their hands, as opposed to tracking each finger. In this way, the Valve Index will make actions in the digital world — like pushing a virtual button or twisting a virtual doorknob — feel far more natural.
Here's what will ship with the controllers:
Two lanyards
Two USB charging cables
Cleaning Cloth
Firefox Reality Internet Browser
Mozilla also tells Inverse that its virtual reality web browser, Firefox Reality, will become Valve Index's default web browser. The partnership will offer easier access to search engines and social media within VR applications.
Unlike other VR browsers that force users to quit out of the app they're running on their headset, Firefox Reality can be seamlessly opened when users are in the middle of a game or watching a VR concert. The app is the default web browser for the HTC Vive headset, is also available on Oculus and Daydream hardware, and is now being incorporated into VR apps offered on Steam.
In a press release, Mozilla stated the app will be available to install "in the coming months." A newly added "web dashboard" button that will be overlaid inside of VR apps will offer users a quick way to pop open a browser window without interrupting the app they already have open.
Valve Index System Requirements
Valve's VR hardware will only be compatible with PCs of a certain caliber. Here are the minimum system requirements and the suggested requirements that Valve recommended for optimal performance:
Minimum:
OS: Windows 10
Processor: Dual Core with Hyper-Threading
Memory: 8GB of RAM
Graphics: NVIDIA GeForce GTX 970, AMD RX480
Network: Broadband internet connection
Additional Notes: Available DisplayPort (Version 1.2) and USB (2.0+) port required
Recommended:
Processor: Quad Core +
Graphics: NVIDIA GeForce GTX 1070 or better
Additional Notes: Available USB (3.0+) Port Required for Headset Pass-Through Camera & USB Port Support.
While the Valve Index headset requires a rather beefy gaming rig to get started, it's specifically geared towards Steam's millions of users who already own PCs. It also offers premium VR features at a slight discount relative to the other HTC headsets, which might be enough to coax gamers that haven't yet jumped into the world of VR gaming.