This 'Designed for Xbox' Projector Comes With an Eye-Watering Price
Viewsonic's X2-4K LED short-throw projector is offering the "ultimate console compatibility."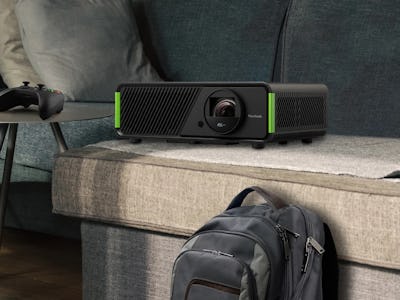 Projectors aren't just for home theater nerds anymore, they're for gaming nerds too. Case in point: Viewsonic's soon-to-be-released X2-4K, a short-throw projector designed meticulously to optimize your Xbox gaming experience.
The LED projector, first announced in March, is finally on its way and set to arrive in the U.S. next month, and if you have an Xbox and are looking to get into the short-throw projector game, it could be the option you've been waiting for (if you have money to burn that is).
X2-4K Tech Features
From a gaming perspective, there's a lot to admire about the X2-4K. The project supports a screen size of up to 120 inches and a native 240Hz refresh rate, which should be great for both Xbox Series X and S users looking for a lag-free experience The X2-4K supports native 4K Ultra HD resolution but will only hit 60Hz when watching in that mode.
At 1.5 meters from your wall, the X2-4K can project a 120-inch screen. If you want something with a closer range you'll have to look to ultra-short-throw like Samsung's 8K laser projector.
Viewsonic says the projector underwent a "highly rigorous testing process" that included more than 60 different trials as noted by The Verge, which makes the X2-4K the first "designed for Xbox" projector.
That translates to perks like being able to control the projector's power and volume via your Xbox and Consumer Electronics Control (CEC) compatibility that allows you to power the projector on when your Xbox is powered on. As someone who owns an Xbox and consistently links my TV and Xbox with CEC, I can say for sure this a perk you'll be grateful to have.
There's also an Auto Low Latency Mode (ALLM) that mitigates input delay, which should come in handy with competitive online play in games like Apex Legends or Fortnite. And for audio (if you're not using a soundbar) there's the added perk of Harman Kardon speakers. Port-wise the X2-4K will have two HDMI 2.0 slots instead of the latest 2.1 standard.
Naturally — since this is a made-for-Xbox projector, after all — the X2-4K will also come adorned in a Series X-like color scheme of black and green.
X2-4K price and release date
As you might've expected, the X2-4K won't come cheap with a starting price tag of $1,599.99. There's also no specific release date outside of July.