These 4K Projectors Give Your Xbox a Massive 100-Inch Display
Viewsonic's latest purpose-built projectors give a much more immersive gaming experience.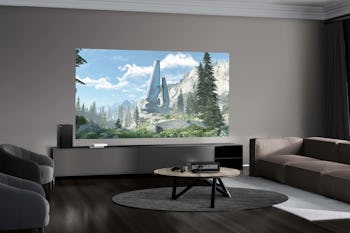 ViewSonic
Projectors aren't just for building out a home theater anymore. ViewSonic released its first projectors that were designed specifically to be used with Xbox. The X1-4K and the X2-4K LED projectors were even colored black and green to match the color scheme for the Xbox Series X.
Projectors generally have some downsides when compared to traditional TVs, which are further highlighted when it comes to gaming. No matter what, you'll have to deal with some ambient lighting that could wash out your image. Lower-end projectors can struggle to keep up with the fast-paced action you see in some video games. However, ViewSonic's two latest gaming-focused projectors address the downsides of projectors while still offering up to a 100-inch display.
STANDARD AND SHORT-THROW
ViewSonic designed the X1-4K to be easily installed onto ceiling mounts, but the X2-4K short-throw projector can be placed on a table five feet away for a 100-inch picture. The projectors offer 2,900 lumens, which should make them bright enough to see even during the day. Most importantly, the X1-4K and the X2-4K offer an input lag of 4.2 ms and a refresh rate of 240Hz so you won't miss a beat when playing first-person shooters. Both the projectors were built with Harman Kardon speakers, too.
You don't have to align either of the projectors to be centered with your desired screen, since they both have horizontal and vertical keystone capabilities, as well as four-corner adjustment. These features make the ViewSonic projectors much more practical since you can set them up anywhere in the room and remove the need to move things around for a lined-up image.
Both the X1-4K and the X2-4K are compatible with Xbox's CEC where the projector will turn on as soon as you start up the console. ViewSonic also earned a TÜV SÜD's Low Blue Light certification for these projectors, meaning those long gaming sessions at night should result in less strain on your eyes.
A VIABLE ALTERNATIVE?
ViewSonic is planning to release the X1-4K and the X2-4K in the second quarter of the year but didn't reveal any pricing details yet. For reference, ViewSonic's PX701-4K projector also offers 4K resolution, a 4.2ms input lag, and a 240Hz refresh rate, and retails for $961.99.
With how capable projectors are getting these days, it's not much of a compromise anymore to game on a projector as opposed to a TV. With the much bigger display, projectors would certainly make cinematic and story-driven games, like the Last of Us, Uncharted, and Horizon series, even more immersive. We're not sure if ViewSonic has any plans for a projector tailored to PlayStation and its exclusives, though.