Sony's a6700 Camera Is Compact But Feature-Rich
The a6700 comes nearly four years after Sony's camera in its a6000 series.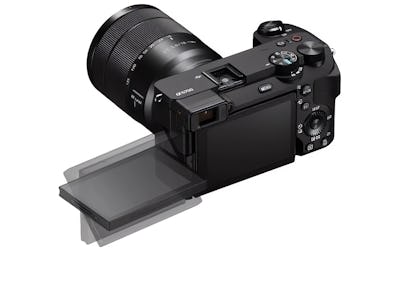 Sony
Full-frame cameras may get most of the attention with their low-light performance, but you can always count on APS-C sensor cameras for their compact design. Sony is adding a serious contender to the APS-C cameras with its latest compact camera, the a6700.
The a6700 is the follow-up to Sony's a6600 mirrorless camera that was released nearly four years ago. Sony is better known for its full-frame cameras within the a7 series, but it hasn't completely neglected its smaller sensor cameras. Besides the a6600, Sony also put out another recent APS-C camera with the ZV-E10, which is geared towards vlogging and content creation. Still, the updated a6700 brings a serious contender to the ongoing debate between full-frame and APS-C.
MORE MEGAPIXELS
Sony upgraded the a6700 with its back-illuminated Exmor CMOS sensor that can snap 26-megapixel stills, maintaining that same 11 fps shooting speed from its predecessor. Even though it's an APS-C sensor, the a6700's ISO goes up to 102,400 for stills to handle low-light situations.
The a6700 also gets much better video capabilities since it can record 4K video up to 120 fps and Full HD video at 240 fps. The ISO for video only goes up to 32,000 but the a6700 can record in S-Log3 and S-Gamut3.Cine video formats, allowing for more control in post-processing. Sony says the a6700 will get more than 14 stops of dynamic range when it comes to shooting video.
This is the first time Sony is throwing in its dedicated AI processing unit in the a6000 series, meaning the a6700 will have improved autofocusing, auto exposure, and auto-framing capabilities. Like Sony's full-frame cameras, the a6700 will be able to identify subjects and keep focus on them. The a6700 will also get five-axis in-body image stabilization.
The a6700 doesn't have many design differences from its predecessor but Sony improved the grip and added a record button at the top of the camera. The latest APS-C camera still has an articulating three-inch LCD touchscreen and an electronic viewfinder, while also keeping its dust-and moisture-resistant design.
LENS AND ACCESSORIES OPTIONS
With most camera brands battling it out with flagship full-frame cameras, the a6700 is a welcome addition to the world of more compact cameras. The a6700 is by no means an entry-level camera so Sony priced it at $1,399.99. Sony didn't reveal any shipping dates, but the a6700 will be available later this year.
Sony will also offer the a6700 in a kit with a 16-50mm zoom lens for $1,499.99 and a kit with an 18-135mm zoom lens for $1,799.99. You can pair it with Sony's upcoming shotgun mic that has eight different recording modes to capture audio in any direction. Sony's ECM-M1 mic will be available for $349.99.