Samsung's Massive 15-Inch Galaxy Tab S9 Ultra Is the iPad Pro's Worst Enemy
The massive tablet comes with everything but the kitchen sink — I love it.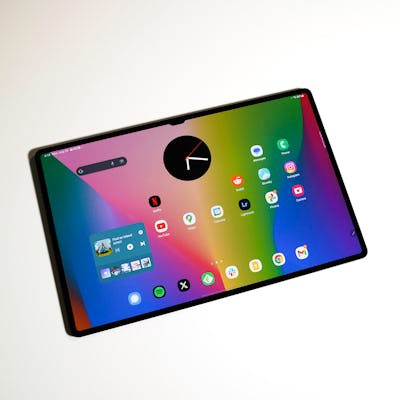 Photograph by Raymond Wong
From its monstrous 14.6-inch OLED display that dwarfs even Apple's largest 12.9-inch iPad Pro to its four cameras (a pair each on the front and back), everything about Samsung's Galaxy Tab S9 Ultra tablet is over the top — and I love it.
Even after using the Galaxy Tab S9 Ultra for a month, I still chuckle to myself at how huge the Android tablet is every time I pick it up. The nearly 15-inch screen is so big any content on it practically sucks you in. Articles require less scrolling, games are more immersive, and running multiple apps side-by-side doesn't feel cramped like on other tablets.
Such a giant tablet with everything but the kitchen sink doesn't come cheap. The Galaxy Tab S9 Ultra starts at $1,199. But O-M-G, you get a lot for your money.
Bigger Is Better
Let me stop you right here: If you can't accept a 14.6-inch tablet into your life, find another device because the Galaxy Tab S9 Ultra is a beast. Consider Samsung's other Galaxy Tab S9 tablets: the 11-inch Galaxy Tab S9 or the 12.4-inch Galaxy Tab S9+. Or get an 11-inch Google Pixel Tablet or an 11.61-inch OnePlus Pad. Or any iPad.
And one more thing: If you have a Galaxy S8 Ultra, you can skip this one unless the upgrades really — and I mean like really — speak to you.
Good, now that you know you can handle the Galaxy Tab S9 Ultra, let's talk about what it's like to use it. In spite of its big screen, which is excellent — OLED, 120Hz, bright, wide viewing angles — the Galaxy Tab S9 Ultra is not as unwieldy as it sounds. It's almost the same size as the 14.2-inch screen on my MacBook Pro and about as thin, too. And because it's so thin (5.5mm), it's easy to carry between rooms.
I have an aging 46-inch LCD TV in my bedroom, but rarely turned it on because Netflix and YouTube worked and looked better on the Galaxy Tab S9 Ultra. At my standing desk, I mostly used the tablet propped up on a first-gen Pixel Stand that wasn't plugged in or placed below my keyboard for notetaking during video calls. And thanks to the new IP68 water and dust resistance, I was able to use the tablet in two places I couldn't have used the Galaxy Tab S8 Ultra: the kitchen and bathroom.
Should I have been watching Ahsoka while taking a bubble bath? Probably not, but it was nice not having to worry about water damaging it. And is having a YouTube cooking tutorial on one half of the screen and a step-by-step recipe article on the other — with buttons and text that I don't need to squint at — worth having to clean up splatter from handling raw meat? Hell yeah, it was.
I initially thought the Galaxy Tab S9 Ultra would be too large. But in almost every use case, I was proven wrong. The Qualcomm Snapdragon 8 Gen 2 for Galaxy chip handles 3D games quite well. I play a lot of Asphalt 9, but using tilt controls on such a big device took the experience up a notch. Call of Duty Mobile? There's actually room for your hands to assume "claw" controls. There's more screen surface area for drawing and notetaking with the included S Pen, which now charges up when it's clipped on in either direction as opposed to just one. Video calls with the ultra-wide front-facing camera mean less fidgeting in my chair to get the right angle. The list goes on.
And it's not just a big screen. Pretty much every feature elevates the Galaxy Tab S9 Ultra. The quad speakers are loud and clear with decent bass (something I didn't think was possible on such as skinny device). The huge 11,200 mAh battery lasts and lasts (especially in standby, which destroys any iPad I own). There's an in-display fingerprint reader and face unlock (there's only one or the other on iPads). Storage starts at 256GB (the model I tested) with 12GB of RAM, but you can get 512GB of storage or even 1TB of storage with 16GB of RAM. Or get yourself a microSD card (up to 1TB) if you're a total boss. When was the last time the iPad had a memory card slot? Oh, right, never.
Better Than iPad Pro For Work?
While the larger display is more spacious for running multiple apps, the answer to this question is… it depends. I know, not exactly the most definitive answer, but let me explain. For light work like email and handling document files, the Galaxy Tab S9 Ultra does the job. I'd even go as far as to say it's better than on iPad and its wonky Stage Manager.
There's also Samsung's DeX mode which essentially puts the tablet into a mode that resembles a desktop OS. In DeX mode, you get a taskbar, app windowing, and right-click menus just like you would on Windows or macOS. It works with touch, but to really get the most out of it, you'll need to pair a keyboard and mouse. Alternatively, you could fork over $349.99 for Samsung's official Book Cover Keyboard, which comes with a built-in trackpad. Samsung didn't send me a Book Cover to test out so I have no idea how well it works.
Then, there's the app situation. Compared to Apple's App Store, the Google Play Store doesn't have as many tablet-optimized apps. Most are simply phone apps stretched across the Galaxy Tab S9 Ultra's bigger display. In DeX mode, tablet-optimized apps are less of an issue because you're running them in windows, but in regular mode, the lack of really good tablet apps is an ongoing work in progress that has yet to be solved for Android tablets.
DeX mode is definitely superior to Stage Manager, but if the productivity apps you need don't exist in the Google Play Store, then what use is it? On the other hand, the iPad has more apps, but multitasking on iPadOS is lackluster. Alas, both tablets and platforms are imperfect and both have tradeoffs. You pick your your poison.
Ultra Tablet Indeed
Tech companies throw around the word "Ultra" way too often only to fall short of greatness. That's not the case with Samsung's Galaxy S23 Ultra, which has more features than any normal person knows what to do with. And it's not the case with the Galaxy Tab S9 Ultra tablet, which outdoes any other tablet in almost every way.
Just like iPads work seamlessly with iPhones and MacBooks, the Galaxy Tab S9 Ultra works best with Samsung phones, laptops, and Android devices made by other companies. It's got some things that could be fixed (i.e. the short stutter when swiping up to open the recent apps view), but they're mostly minor and do not take away from the overall experience, which is excellent.
Samsung didn't reinvent the wheel this year (again), but that's okay. The Galaxy S9 Tab Ultra is for anyone who wants the biggest, most feature-packed tablet available. It's no iPad, but it is frickin' ultra.