This Modded Rivian EV Looks Like a Real-Life 'Halo' Warthog
Your childhood dreams are only $150,000 away from coming true.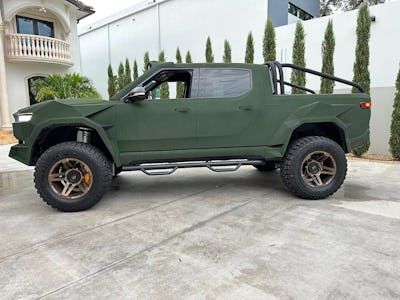 Apocalypse Manufacturing
What Halo diehard hasn't dreamed of riding around in a Warthog? You may be able get a one-to-one replica of that combat vehicle in real life, but Apocalypse Manufacturing has given us a modern-day design that resembles the franchise's iconic Warthog.
Apocalypse's Nirvana is built off of Rivian's R1T pickup truck, but it's been so heavily modified that it looks like a distant cousin. The company behind the Nirvana has plenty of experience with modding out Jeeps, Ram trucks, and Ford Broncos, but this is Apocalypse's first time working on customizing a Rivian. The Nirvana may not be the practical everyday driver you're looking for, but you'll definitely be ready for the apocalypse with this beast of an electric truck.
READY FOR ROUGH ROADS
Apocalypse says the Nirvana packs 850 horsepower and can go from 0 to 60 mph in three seconds. That's a slight improvement from Rivian's top-of-the-line R1T model that runs off four motors.
While the Nirvana may be based on the R1T, Apocalypse has put plenty of work into the design to make it feel like a completely different EV. There's a dynamic suspension that's designed to adapt to whatever terrain you're driving through, side-mounted steps to get into this massive beast of an EV, and even a roll cage for the worst-case scenarios.
The Nirvana is meant to hit the dirt roads with huge 38-inch tires on 20-inch wheels and skid plates on the front and back to provide some extra protection. Apocalypse even applied a full Kevlar paint job that can withstand scratches, rust, and erosion. The paint job adds to that rugged aesthetic that the Nirvana is so clearly pushing.
LIMITED AVAILABILITY
Since the Nirvana is a custom-built EV, there's not a lot of availability. According to Apocalypse, the first Nirvana build has already been sold, but there's a second one in Kevlar gray that's currently available. The Nirvana starts at $150,000 but that price includes the Rivian R1T base that it's built off of.