When the Apocalypse Hits, This Is the Emergency Battery Bank You Want
Anker's 548 Power Bank is gonna save your ass.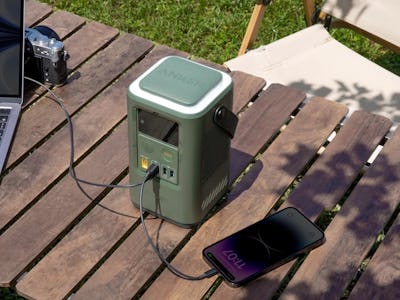 Anker
We may receive a portion of sales if you purchase a product through a link in this article.
The way things are going with our planet — New Yorkers were in for a Blade Runner reality last week — you're going to be glad you have something like the Anker 548 Power Bank to keep all of your devices charged up.
Battery experts, Anker, have been prepping for the apocalypse for a while. Its PowerHouse 535 (and 521 and 555 if you're looking for something with less or more capacity) is considered by many preppers to be a must-have for emergencies. But say you want something smaller and lighter — Anker now has the 548 Power Bank.
At $169.99, the 5.1-pound 548 Power Bank gets you a 60,000 mAh battery 192Wh (comes with a handle, of course) and two USB-C and two USB-A ports. One of those USB-C ports is capable of 60W and the other 27W, which is enough output to simultaneously charge up a laptop and phone, according to Anker. Per their testing, the 548 Power Bank has enough power to charge a MacBook Air 2.9x, or an iPhone 14 Pro Max 7.4x, or a 3W LED lamp for 42 hours and 18 minutes. The built-in screen shows the charging status for all devices plugged in.
Anker touts the LiFePO4 batteries inside of the 548 Power Bank as "EV-grade" capable of lasting 3,000 charges; similar competing battery banks only last 300 cycles, the company claims.
Pull up the top and there's an emergency light with two brightness modes and an SOS button siren mode.
There's even a plug for connecting a solar panel (oh look, Anker sells solar panels, too!) to really go green. In fact, solar is probably the preferred way to keep the 548 Power Bank juiced up; it comes with a USB-C cable but no power adapter in the box.
From where I'm standing, the 548 Power Bank is a neat (and affordable) device that everyone should have stashed in their car trunk. Or at home. You just never know when the world will go belly up. Or take it when you're camping. I guess you can do that, too. It's not nearly as fun as prepping for the end of the world, but you do you.