Ram's EV Future Looks Strangely Similar to Its Gas-Powered Past
Ram gave the first glimpse of a pre-production version of its 1500 electric pickup truck.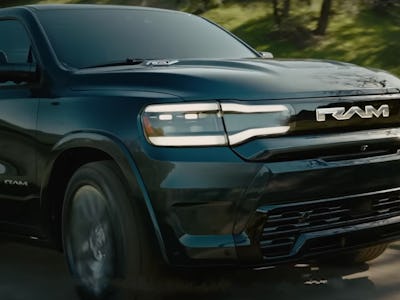 Ram
Ram's reveal of its first EV pickup concept during CES 2023 had everyone wanting to see more. After revealing what looks to be the production model of the Ram 1500 REV, that hype has simmered down. Ram finally gave us a real look at the Ram 1500 REV during its Super Bowl ad, and it shares a very similar design to the ICE version.
While the majority of the 60-second ad is spent on cheeky jokes, there are a few seconds showing what the Ram 1500 REV will look like. It's the first time we've gotten a decent look at the Ram 1500 REV, separate from the conceptual version that was on display during CES 2023.
PLAYING IT SAFE
When compared side-by-side to the gas-powered Ram 1500, the light-duty EV pickup has more similarities than differences. We can see Ram updated the wheels, headlights and taillights, but it wouldn't be too hard to confuse the two.
We saw a ton of interesting features with the Ram 1500 Revolution BEV Concept at CES 2023, including third-row capabilities, an AI virtual assistant, and an exterior projector that offers driver info but could also serve as a movie projector. Considering the conceptual design, it's likely we won't get many of these attractive features with the production model of the Ram 1500 REV.
Ram still deserves some credit for taking the first step towards full electrification of its lineup. The automaker may be keeping it conservative with the design to ease into electrifying its vehicles, but we're hoping Ram will deliver on some of that wow factor that we saw with its conceptual pickup. There's no doubt Ram will continue to work on EVs since it's part of Stellantis, which has been steadily making progress with its Dare Forward 2023 strategic plan that seeks to electrify its car brands including Chrysler, Dodge, and Jeep.
COMING LATE 2024
Ram says it'll start production on the Ram 1500 REVs next year, but has already opened up customer reservations on its website. The $100 reservation will put you in line to preorder the Ram 1500 REV, which should be available in the fourth quarter of 2024.
That's nearly a couple of years out, so we can expect some newer models from other car brands to provide some serious competition in the pickup truck space. While Ram may be targeting a demographic who isn't necessarily seeking out that futuristic EV design, those customers are surely going with other options like Ford's F-150 Lightning or Tesla's Cybertruck.