Why Microsoft Thinks Sony Will Release a PS5 Slim Later This Year
Because of the history books.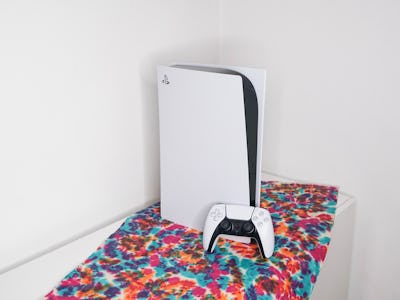 Photograph by Raymond Wong
Sony has not announced a PlayStation 5 "slim" console, but Microsoft seems to believe the gaming powerhouse is preparing a compact version for release later this year.
"PlayStation likewise sells a less expensive Digital Edition for $399.99, and is expected to release a PlayStation 5 Slim later this year at the same reduced price point," Microsoft revealed during last week's intense Federal Trade Commission v. Microsoft case where the Xbox-maker is trying to get approval for its $68.7 billion acquisition of Activision Blizzard.
The same case also shed some possible light on Sony's PlayStation handheld (codenamed "Project Q"). Microsoft believes Sony's 8-inch HD handheld slated for launch later this year will be "under $300."
This is, of course, is all coming from Microsoft and not Sony, and therefore only speculation. That being said, there might be some merit to Microsoft's projections if past PlayStation "slim' model release cycles are any indication.
According to History...
The original PlayStation launched on December 31, 1994. Six years later in 2000, Sony released the PS One, a smaller, rounder, and more compact version of the console.
That same year in 2000, the groundbreaking PlayStation 2 launched. The PS2 saw several "slim" models between 2004 and 2007.
The PlayStation 3 was released on November 11, 2006 in Japan. Then, three years later in 2009, the PS3 "slim" launched. In 2012, an even more compact "super slim" model came out during the console's last years before Sony went all-in on the PS4.
In 2013, Sony launched the PlayStation 4. Sony released a slimmed-down, quieter, and more power-efficient PS4 "slim" in 2016. That same year also saw — for the first time in PlayStation history — the release of a more powerful model, the PS4 Pro.
Which takes us to today and the PlayStation 5. Sony released the PS5 in 2020. This year would be the third anniversary of the console, and if the company follows the PS3 and PS4 slim model release cycles, a PS5 "slim" should be arriving this year — three years after the original hit the scene. So Microsoft's timeline does make sense. As to whether Sony will actually release a PS5 "slim" this year... that's TBD.
To date, the PS5 has sold around 38.45 million units worldwide, according to VGChartz compared to Microsoft's 21.96 million Xbox Series S/X consoles. Three years into the PS5's lifecycle, it may be time for a hardware refresh in order to keep sales going, especially if the console is to stick around for at least 10 years. With no blockbuster Sony exclusives coming to the PS5 in the second half of the year, a PS5 slim could keep the momentum going. That, and the "Project Q" handheld and PlayStation Wireless Earbuds.