"Spending Sony Out of Business." 5 Huge Bombshells From Microsoft's FTC Hearing
The bombshells keep dropping.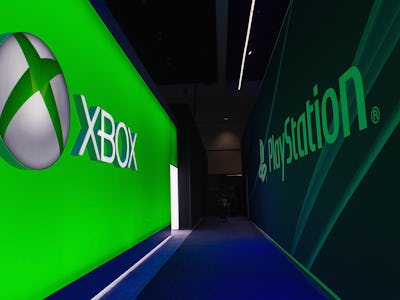 Daniel Boczarski/WireImage/Getty Images
Ever since Microsoft put in a $68.7 billion bid to buy behemoth game company Activision Blizzard, the company has been forced to jump through numerous hoops in the hopes of making the merger official. Microsoft's proposed acquisition still needs to be approved by trade regulators in multiple countries, with the UK's body blocking the deal while the EU approves.
Meanwhile, in the U.S., the Federal Trade Commission is taking Microsoft to court. The trial began on June 22 and the outpouring of documents and testimony has led to some major bombs being dropped about Microsoft, Sony, and the video game industry at large. Here are the biggest takeaways you need to know.
5. Microsoft Tried to Buy Sega, Square Enix, and More
It's no secret that Microsoft has been on a buying spree, but the trial reveals a few other companies it seriously considered going after. Microsoft's acquisition of Sega is one of the longest rumors in gaming, but the trial revealed emails in which Xbox CEO Phil Spencer requested approval from Microsoft CEO Satya Nadella and Microsoft CFO Amy Hood to begin conversations with the House of Sonic. A November 2020 email from Spencer reads: "We believe that Sega has built a well-balanced portfolio of games across segments with global geographic appeal, and will help us accelerate Xbox Game Pass both on and off-console."
A 2019 internal proposal on a strategy to acquire Final Fantasy developer Square Enix also emerged during the trial. It is not clear how far this plan got, but Spencer did provide feedback on the internal proposal.
In addition, a massive list of over 100 game companies was revealed with Microsoft weighing the pros and cons of each. The list includes Supergiant Games, IO Interactive, Remedy, and Bungie, to name a few.
4. The Last of Us Part II Cost About the Same As Horizon Forbidden West
Due to a blunder in redacting a document from Sony, the official cost of development for two of the company's biggest first-party games in recent years was revealed. Naughty Dog's The Last of Us Part II cost $220 million over the course of six years with 200 full-time employees according to the document. Horizon Forbidden West cost $212 million over a five-year period with 300 full-time employees.
The similarity in development cost for these two titles is a bit perplexing considering how different the two are. The Last of Us Part II is an extensive single-player experience while Horizon Forbidden West is a massive open-world RPG that takes tens of hours to beat. While we don't know why each game cost this much, it shows that games are getting increasingly expensive to make, which leaves many companies unwilling to take risks.
3. Starfield Was Almost a PlayStation Exclusive
In 2020 Microsoft acquired ZeniMax Media for $7.5 billion, which gave Microsoft ownership over Bethesda and its suite of titles like The Elder Scrolls and Fallout. It also secured control over the highly-anticipated space RPG Starfield. During the trial, Phil Spencer revealed that after Bethesda titles like Deathloop and Ghostwire had Sony exclusivity deals, Microsoft heard talks of Starfield having a similar deal. The company then sought to acquire ZeniMax in order to retain access to Starfield. Starfield is releasing this fall, exclusively on Xbox and PC.
2. Indiana Jones, Redfall, and More Became Xbox Exclusives at the Direction of Microsoft
After purchasing ZeniMax, a number of the company's titles were turned into Xbox exclusives by Microsoft. This included Redfall (which turned out to be a flop for Xbox) as well as the upcoming Indiana Jones game. The trial revealed that Disney planned for the game to come to multiple consoles but the deal was amended to make the upcoming Indiana Jones game an Xbox exclusive after Microsoft's acquisition of ZeniMax. Since much of the trial has centered around the idea of exclusivity and Xbox's attempt to take away games from other platforms, this does not help Microsoft's case.
1. Microsoft Talked About "Spending Sony Out of Business"
One of the biggest bombshells from the trial so far is a 2019 email sent by Xbox Game Studios chief Matt Booty in which he wrote, "We (Microsoft) are in a very unique position to be able to go spend Sony out of business." This was in reference to a discussion about spending two or three billion dollars in 2020 in order to prevent competitors from becoming the "Disney of games" in the future.
Microsoft has described this email as not part of an official plan but rather as a "thought experiment."