Sonys' Project Q PlayStation Handheld Could Be Priced at Under $300
That's a lot... for a handheld that might have limited streaming features.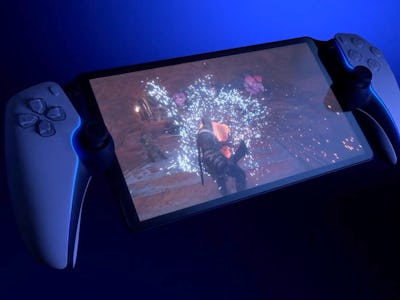 Sony
Microsoft's tussle with the Federal Trade Commission is shining light on an unlikely competitor. Uncovered by Axios' Stephen Totilo, there's a footnote in the documents provided in the Microsoft FTC trial that speculates that Sony will release its PlayStation 5-compatible "Project Q" handheld later this year for less than $300.
Obviously, this news isn't coming from Sony itself but as a direct competitor, Microsoft is likely qualified to make an educated guess here. If correct (or in the ballpark), a $300 Project Q handheld would pit it against cloud-gaming competitors like the Razer Edge which goes for $399.99 and the Logitech G Cloud which retails for $349.99. Although, the sub-$300 price tag makes sense since Sony's handheld is meant to be a direct link to your PS5, instead of tapping into the cloud for gaming.
EXISTING ALTERNATIVES
The $300 estimate also comes close to other popular handhelds like the Steam Deck ($399.99) and the Nintendo Switch ($299 for the 7-inch and $349 for the OLED model), though Valve and Nintendo's options have the advantage of being untethered. Plus, you can already use PS Remote Play with a compatible iOS or Android device and pair it with a $100 Backbone controller and get the same result.
Sony has a lot to work out with the Project Q handheld. We still don't have a full spec list of features, or pricing and release details. Project Q differs from other handhelds since it needs Wi-Fi to connect to PS Remote Play, making it feel more like an extension of a PS5 rather than a standalone device.
From what we've seen so far, Project Q looks like a DualSense controller spliced with an 8-inch screen. We do know that Project Q will get up to 1080p resolution and 60fps while having all the buttons and features of DualSense controllers.
IS THE PRICE RIGHT?
For now, we're waiting for Sony to share more details about Project Q "in the coming months." The big question is how much will PS5 owners pay for a handheld that's seemingly made only for streaming games from a console? $300 might be a little bit too much when more capable handhelds with a huge library of native games cost a few more bucks.
This article was originally published on