Nothing Confirms Ear 2 ANC Wireless Earbuds Are Coming on March 22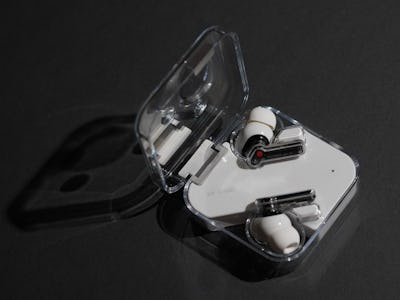 Photography by Raymond Wong
Before the Phone 2 — with a Snapdragon 8 series chip — comes out later this year, Nothing is launching second-generation active noise-cancellation wireless earbuds, unsurprisingly called Ear 2, on March 22.
Nothing's Twitter account has been teasing a new product using a beetle (a ladybug, a praying mantis, and a parrot were used in past imagery to tease new products, too), telling people "something mighty is on the horizon," and on Monday we learned that thing is the Ear 2.
As always, we only have a sliver of what appears to be a redesigned transparent charging case as shown by a beetle pulling it.
Hmm, it's not the largest image. Enhance!
Ear 2 upgrades
As its first product, the Ear 1 ANC wireless earbuds launched to great fanfare and hype. But it wasn't without its stumbles out of the gate. As I noted in my review, the original white pair was riddled with bugs. The hardware issues were eventually fixed with the release of the Ear 2 Black Edition and subsequent firmware updates also helped improve things.
With the Ear 2 coming in 16 days, what can Nothing include to steal attention away from AirPods Pro or Galaxy Buds Pro or Pixel Buds Pro or the buckets of excellent ANC wireless earbuds available? Upgrading the sound quality is for sure one thing. Shrinking down the size of the Ear 2 charging case would be another. Just don't cut the wireless charging; that's a modern convenience that shouldn't be taken away on wireless earbuds!
I don't have any insight into what the Ear 2 will include, but I'd bet money that the press controls on the non-ANC Ear Stick wireless earbuds will replace the swipe-based ones on the Ear 1. I'm also not predicting any price drop. To the disappointment of many, Nothing repriced the Ear 1 after the launch of the Ear Stick, increasing it from $100 to $150. Expect the Ear 2 to cost the same or slightly more, but not less.
2023 Nothing device lineup
This year is shaping up to be a product-filled one for Nothing. With the Ear 2 coming out later this month and the Phone 2 later this year, Nothing's lineup will be a strong three, unless there's more coming.
Ear Stick ($100)
Ear 2 ($150?)
Phone 2 ($500+?)
Ear 2 Launch Date Details
Other than launching on March 22, the only info the tweet shares is the live stream time and where to watch: 3 p.m. GMT / 10 a.m. ET. on Nothing's website at nothing.tech.