Maybach's First Electric Hybrid Is the Anti-Prius
We really needed someone to fill that void for a high-end hybrid electric vehicle.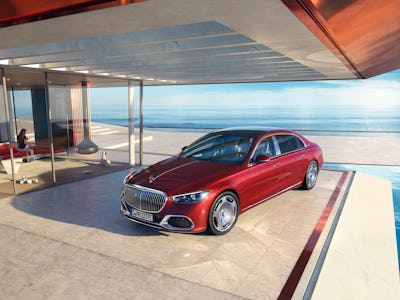 Mercedes-Maybach
Mercedes-Maybach is the latest car brand to enter the electric vehicle market, but it's doing so with a plug-in hybrid model first. Maybach's late entry into the EV world comes through its S 580 e sedan which shares a lot of similarities with Mercedes-Benz' existing S580e hybrid.
We're in an era where many car companies have already transitioned into EVs, including those in the ultra-luxury category like Rolls Royce and Bentley. It's a significant step towards electrification for Maybach even though the S580e is just a hybrid. The luxury brand did tease that it will eventually do a fully-electric model, though.
Hidden hybrid features
Despite being a hybrid on paper, Maybach designed the S580e to not look much different from its other expensive models. The S580e has its charging socket hidden on the left side of the car and the only hint that it's an EV is the blue color accents in the headlights and the battery charging state in the instrument panel.
The S580e uses an inline six-cylinder engine, where the petrol engine produces 367 horsepower and 500 Nm of torque and an electric motor generates 150 horsepower and 440 Nm of torque. Combined, the hybrid gets 510 horsepower and a maximum torque of 750 Nm. That results in an overall top speed of 155 mph and a 0 to 60 mph in around 5.1 seconds. When using just the S580e's electric motor, it can get a top speed of around 87 mph.
The electric motor also can provide roughly 62 miles of range so that it can do short commutes emission-free. The S580e can charge via an 11 kW charger from AC outlets, or through 60 kW DC fast charging. Using fast charging, the hybrid can get to full charge in around 30 minutes.
All-electric model coming
Mercedes-Maybach is releasing its S580e in China first, with Thailand and European markets to follow. Mercedes-Maybach says it'll release its hybrid to other countries later, but didn't specify which. There's no pricing available for the S580e yet, but most of the cars with the Maybach branding tend to carry a price tag closer to $200,000.
While Maybach's first hybrid is a big announcement, the ultra-luxury brand also teased its first fully electric model. Daniel Lescow, head of Mercedes-Maybach, said in a press release that the company will debut its first fully electric model as early as this year. It may feel weird to still put out a hybrid nowadays with the abundance of all-electric options out there, but at least Maybach seems committed to adding to the ultra-luxury EV market.