Apple Announces "Scary Fast" October 30 Event, Likely for New Macs
Just in time for Halloween.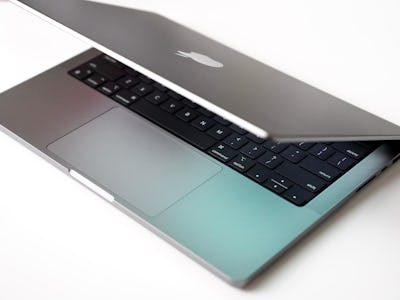 Photograph by Raymond Wong
Apple is not done releasing new products this year. A week after announcing a $79 Apple Pencil with USB-C, the company appears to be turning its attention to new Macs.
Apple sent Inverse an invite to watch a special online event on October 30 at 8 p.m. ET / 5 p.m. PT. A dark Apple logo is followed by a "Scary fast" tagline leading social media to speculate what Apple is hinting at. Will Apple announce new MacBook Pros with more powerful M3 chips? New iMacs with M3 chips? Black-colored Macs? Is there something timed to Halloween?
The time of the event is unusual. Apple typically hosts events (online or in-person) at 10 a.m. ET / 1 p.m. PT. Products (like the Apple Pencil with USB-C) announced through a press release on the Apple Newsroom site usually hit earlier. Why the late-day announcement next week? It's really out of character.
Black... Something?
Look, M3-powered MacBooks Pros and iMacs seem likely considering that current inventory is low and delivery times are showing up for next month, according to Bloomberg's Mark Gurman. The 14- and 16-inch MacBook Pros were last updated in January and the iMac in April 2021.
But what I'd love to see is black hardware. Not the "Midnight" dark blue/black-ish finish of the M2 MacBook Air, but an honest-to-God black colorway. Apple introduced the first and only black MacBook in 2006, then discontinued it in 2012.
It's time to retire Space Gray and go dark with a true black again. Preferably without a $100 premium.
And if not black MacBooks, then this teaser of the Apple logo morphing into a black Finder icon on the Apple Event site, better be hinting at something dark-related for macOS.
Something like this, a true blacked-out dark mode, would be fire:
How to watch Apple's "Scary fast." Event Online
There are a few ways to tune into the "Scary fast." event. You can go to Apple.com or fire up the Apple TV app. Or you can bookmark the below YouTube link.
The video won't be live until October 30.